Technology Integration
Tell Your Story on Digital Learning Day 2016
The fifth annual Digital Learning Day will be on February 17, 2016. Find resources to help you celebrate, tell your story, and support digital learners all year long.
January 23, 2012
Updated February 10, 2016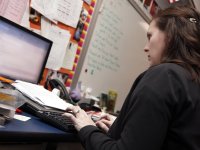 Organized by the Alliance for Excellent Education, Digital Learning Day is coming soon on February 17, 2016. This annual event, now in its fifth year, offers educators an opportunity to reflect and tell the story -- and amplify the reach of these messages -- about how digital tools are empowering learning in classrooms, schools, homes, and communities.
How to Participate
Here are a handful of ways that educators and schools have participated in Digital Learning Day:
However you are participating, be sure to add your celebration to the Digital Learning Day map, and follow #DLDay on Twitter for updates. Also, register for Digital Learning Day Live to participate in live webcasts, Twitter chats, and online conversations – all coordinated by DLDay Live Emcee Rafranz Davis (@RafranzDavis). National and local leaders, educators, and students will discuss how the digital divide is affecting communities and what is being done to address those issues. Wondering how parents fit into the day? "Engaging Families in Digital Learning Day," from Edutopia community member Gwen Pescatore, explains the important role that parents play in celebrating digital learning and how to involve parents.
Where to Find More Information
Visit the Digital Learning Video Gallery on the website for the Alliance for Excellent Education to view real-life, practical stories about how district and school leaders are improving learning outcomes through effective use of technology. In addition, check out a few featured resources from Edutopia to find ideas and tools to explore how you can take action on the digital divide and bring digital learning to the next level. Here are a few resources to tap:
Technology Integration in a Nutshell
Technology-Integration Strategies, Tools, and Tips
Technology Integration in Schools That Work
Edutopia's flagship series highlights practices and case studies from K-12 schools and districts that are improving the way that students learn. Check out two recently covered schools, and find out how they are making gains via effective technology use.
Blended Learning: Making it Work in Your Classroom: Discover how P.K. Yonge Developmental Research School in Gainesville, Florida, integrates digital content with face-to-face learning and how this has resulted in impressive gains in student achievement.
video
More Resources From Edutopia
How will you use this opportunity to reflect and celebrate? We'd love to hear about your ideas and plans in the comments.