Curriculum Planning
Life After the Hour of Code
Give students a taste of coding, point them at the resources, and their enthusiasm will let them apply a once-nerdy skill to any subject area.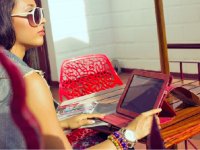 Now that the excitement of the Hour of Code has passed, and you still vividly remember your students' eyes light up while completing their coding challenges, you may be wondering how to keep that excitement going in your classroom. The only thing is, you don't teach computer science -- and you have no idea how to teach coding.
The great news is, that's fine!
Whether you are an English teacher, a history teacher, a math teacher, an art teacher, or any other subject area specialist, your students can still incorporate coding into what they are learning. If you're a math teacher, coding is a natural fit -- math skills are essential to programming. You can check out the lessons at Code by Math to see how your students can apply what they are learning in class to a coding challenge. You can even have them go to Khan Academy's Computer Programming courses. No doubt they are already visiting the site for help with their math homework or as classwork.
For non-math subject areas, there are a number of ways that students can incorporate coding into their classwork and projects. If you already design your projects to give students multiple pathways of showing their learning, then just make coding one of them! Students can build a webpage, a game, or an app about what they are learning, using sites like Code Avengers or Code Academy (the HTML/CSS website builder or the JavaScript track are best for this). Or they can create something fun at Made With Code.
Playing and Learning
Many teachers wonder, "When will I have time to teach them how to code?" Or maybe the question is, "I don't know how to code, so how can I expect them to create a project out of code?" The answer to these questions is simple: If your students are choosing to create something out of code, then provide them with the resources (such as the links in this post) and send them on their way. These are the same questions we ask when we assign a project and students create videos or use a new web tool like Prezi to complete a presentation. Students will play with the tool, explore what it does, and go from there. When students created dioramas in the past, did we worry about teaching them how to use paper-mache or cardboard, or how to paint styrofoam balls?
That said, I highly suggest going to a site like Code.org or Made With Code and playing around a little. Hint: It's kind of fun.
One thing that does make projects with code more difficult to manage is the reality of students getting so involved in the learning process that they may run out of time to create the final product they're supposed to be turning in. You can help by creating a series of checkpoints where the students must submit what they have completed so far. (You probably already do this.) For coding, they could turn in a screenshot of what they are creating. This will help you know if you need to step in and make sure that the students are on track to finish the project on time.
There are many rewards when creating a project through coding. Not only will students have a better understanding of how the things they use every day (like websites, apps, and games) actually work, but they will also be on their way to joining the ranks of those who create these resources. The skills they're building are marketable as well, and along the way, these skills will open the door to an infinite amount of learning in the realm of math, computation, analytical thinking, and perseverance.