Technology Integration
The Epic BYOD Toolbox
We've collected dozens of apps and tools for your bring-your-own-device classroom, with options for student writing, presentations, screencasting, assessment, and more.
June 10, 2014
Updated June 29, 2017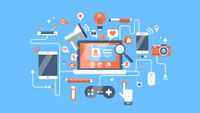 ©Shutterstock.com/karnoff
You've got every device under the sun in front of you in your bring-your-own-device (BYOD) classroom. What apps are you going to use? Here are the apps and app categories that I recommend you test for your school. There are lots of apps—these recommendations are based on what I've used with my students or successfully tested.
Content-Sharing Platforms
Your school is bricks and clicks—you have a physical presence in your classroom and a digital podium through your content-sharing platform. You need a way to share your digital instruction, and kids need to know where to look.
There are many other content-sharing platforms, like Moodle, Canvas, and CourseSites. The point is that you should have either an LMS or a content-sharing platform in a BYOD environment so that students can access a digital classroom.
Screencasting and Capturing What Happens in Class
If you're going to share and interact with your students in the electronic and physical spaces (as you should), you must learn how to screencast.
In some exciting news, Apple has announced that iOS 11 (out later this year) will include screen recording capabilities and new screenshot features. When it comes out, you'll want to learn more.
Cloud Syncing
Expression
Students need multiple ways to share and to express themselves, particularly verbally and with pictures. This is part of transliteracy. Many teachers who are using tools that capture voice, photos, and videos are also constructing their own DIY soundproof boxes like this one from Justin Bell.
Blogging
A personal blog is one of many ways for students to have a voice as blogging gives them a chance to interact with an audience and their peers. While I presently use Ning with my eighth graders, I've used all of these blogging tools at one time or another.
Written Expression
Special needs: Students with special needs have many tools available in the Google Chrome browser. After you use Chrome's powerful accessibility features, try out Dyslexia Reader and install the Speech Recognition add-on, which Jennifer Cronk, a special needs expert, says is far more responsive than Google Voice typing. Take time to figure out the tools and accessibility options available on your devices for any child who needs them.
Presentations
I rarely assign a specific software program for presentations. These are my top six that I recommend to students. I expect them to know how to move their presentation slides between these programs. When they're doing a massive online presentation like the one they did for Gamifi-ed, some may create slides in Keynote and others in Haiku Deck, but they all have to export and insert their slides into the group Google Presentation file the day before we present.
Electronic Note Taking
There are three front-runners in this category, in my opinion:
Graphic Design, Infographics, and Color Selection
Now that students are creating so many graphics, we have to help them understand how to pick colors. You can introduce kids to color wheels, or just teach them how to use Paletton. Then teach them how to enter the hex codes in the apps and tools that they use.
Link Sharing
Formative Assessment
See my article "Fantastic Formative Assessment Tools" for more detail on these. All of these work on all devices.
Multiple-Choice Assessment
If you absolutely must do multiple choice (and if multiple choice is all you do, be warned that you're missing out), spend as little time as possible grading. These apps make it a snap. You create the quiz, students bubble in the answer, and you snap a picture on your mobile device, which is your own personal Scantron. If you're going to do multiple choice, at least give students immediate feedback. There's no excuse not to.
Kinesthetic Learning
Some fascinating things are happening with physical motion using BYOD. Perhaps the most widely used tools are video delay apps, which let you set a delayed-start for your video camera so that you have time to get in position and film yourself doing a physical activity. This helps with coaching and improving form but can also be used with performance arts. Here are a few apps that phys ed teacher Jarrod Robinson talks about:
These are just some of the many tools available for a BYOD environment. As you're implementing BYOD, learn more about the SAMR Model so that you can get past replicating what you've always done with new digital tools into truly redefining what you do in your classroom.