Maker Education
Resources for Maker Education
Find resources and tools to help bring elements of maker culture into schools and classrooms, and encourage students to explore STEAM subjects within the context of maker projects.
January 13, 2016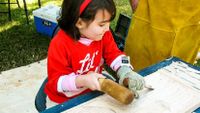 Photo credit: James Emery via flickr (CC BY 2.0)
Understanding The Maker Movement in Education
Getting Started With Making in Schools
Launching School Makerspaces
Building Maker Mindsets and Culture
Selecting Maker Tools and Projects
Reaching All Makers
Examples From Schools That Work
Edutopia's flagship series highlights practices and case studies from K-12 schools and districts that are improving the way students learn. Below, dive into real-world examples of maker education in practice.
At Albemarle County Public Schools, maker education fosters student autonomy, ignites student interest, and empowers students to embrace their own learning.