Technology Integration
Tech2Learn: Success Stories of Technology Integration in the Classroom
This video series goes inside the classrooms of educators who use technology tools in their lessons every day. Learn from their challenges, celebrate their successes, and share their resources in every episode.
May 9, 2012
Updated December 15, 2014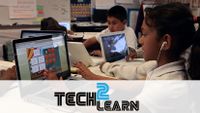 Episodes by Topic:
The Tech2Learn series is a co-production with the Teaching Channel.
Enhancing Lessons With Blended Learning
Related Resources From Edutopia
Collaborative Digital Presentations With Online Tools
Related Resources From Edutopia
Engaging Kids With Digital Video Production
Related Resources From Edutopia
5 Apps for Making Movies on Mobile Devices, by Monica Burns (2014)

Burns reviews five movie-making apps for iOS devices and Android tablets, highlighting their no-to-low cost, ease of use, and the wide range of professional-looking products that students can create.

Critical and Creative Expression for Indigenous Youth, by Donna DeGennaro (2014)

DeGennaro, director and founder of Unlocking Silent Histories, describes the experience of introducing indigenous youth in Guatemala to the art of documentary filmmaking and watching them find their voices.

7 Tips for Getting Started With Video in the Classroom, by Dan Callahan (2014)

In this community post, Callahan shares 7 tips for teachers on how to get started with making movies in the classroom. Explore tips from other community members in the comments.

Five-Minute Film Festival: Vine and Instagram Video in the Classroom, by Amy Erin Borovoy (2013)

Can seconds-long Vine and Instagram videos be used as teaching tools? According to a number of educators online, the answer is a resounding yes! To help educators utilize Vine in class, VideoAmy has pulled together some of the best resources and videos from around the web.

Lights, Camera ... Engagement! Three Great Tools for Classroom Video, by Ron Peck (2012)

Peck walks us through tools that can turn students into videographers.

Digital Storytelling: Helping Students Find Their Voice, by Suzie Boss (2008)

Though making a movie may have become easier, making a good one is still hard to do.
Differentiating Instruction Through Technology
Related Resources From Edutopia
Getting Started With Free or Low-Cost Technology Tools
Related Resources From Edutopia
Programming and Video Games in the Classroom
Related Resources From Edutopia
Additional Resources on the Web