Technology Integration
Tech2Learn: Success Stories of Technology Integration in the Classroom
This video series goes inside the classrooms of educators who use technology tools in their lessons every day. Learn from their challenges, celebrate their successes, and share their resources in every episode.
May 9, 2012
Updated December 15, 2014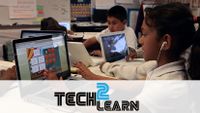 Episodes by Topic:
The Tech2Learn series is a co-production with the Teaching Channel.
Enhancing Lessons With Blended Learning
Related Resources From Edutopia
Collaborative Digital Presentations With Online Tools
Related Resources From Edutopia
Engaging Kids With Digital Video Production
Related Resources From Edutopia
Differentiating Instruction Through Technology
Related Resources From Edutopia
Getting Started With Free or Low-Cost Technology Tools
Related Resources From Edutopia
Programming and Video Games in the Classroom
Related Resources From Edutopia
Additional Resources on the Web