Game-Based Learning
Made With Play: Game-Based Learning Resources
November 12, 2013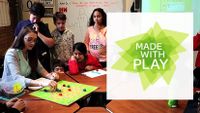 Implementing Game-Like Learning Principles
Q Design Packs from Institute of Play, based on the tools and methods used by teachers, administrators, curriculum designers and game designers at Quest to Learn and CICS Chicago Quest, provide detailed infographics, worksheets, and rich media resources to support school design, curriculum design, and professional development. There are four Q Design Packs currently available for download:
Q Curriculum Design Pack: A curriculum planning resource
Q School Design Pack: A school design resource
Q Games and Learning Design Pack: A game design resource
Q Systems Thinking Design Pack: A systems thinking integration resource
Video Tutorials for Implementing Game-Based Learning in the Classroom
Videos of Game-Based Learning in Action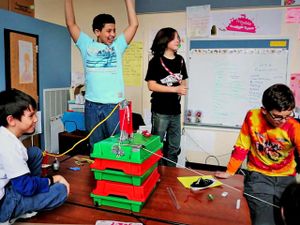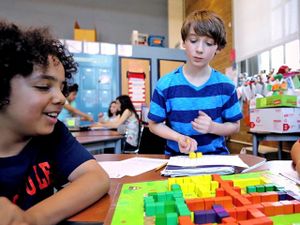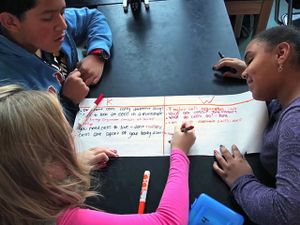 Creative Role-Play Encourages Deeper Science Learning (2014) 
Learning how the body works becomes an adventure as sixth grade students embark on a biology-based narrative journey at game-based learning school Quest to Learn. Download the Dr. Smallz curriculum (PDF) to use in your own classroom.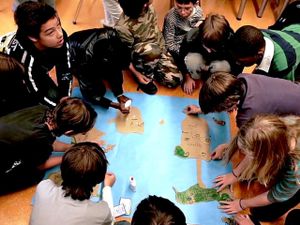 Building Formative Assessment into Game-Based Learning (2014)
In a sixth grade classroom at Quest to Learn, ongoing feedback is embedded throughout the course of a collaborative geography game called Galactic Mappers. Download the Galactic Mappers Rules (PDF) and Game Cards (PDF) for use in your own classroom.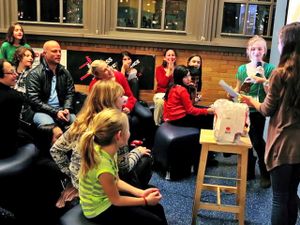 How a TEDx Mission Connects Students to Real-World Goals (2014)
In a 7th-grade classroom, wellness lessons are framed as broader "missions" to get students engaged with relevant topics in their community. At the close of the project, they share what they've learned in TEDx-style talks. Design your own mission with the TEDx Mission Pack. 
Using Commercial Games in the Classroom
Minecraft Resources on the Web
LittleBigPlanet Resources on the Web
Mangahigh Resources on the Web
Portal Resources on the Web
Other Edutopia Resources on Game-Based Learning