Assessment
Resources and Tools for PBL Start to Finish
Educators from Manor New Technology High School in Manor, Texas, part of the New Tech Network of schools, have provided these resources and tools for project-based learning.
May 23, 2012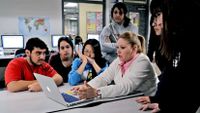 Credit: Zachary Fink
English teacher Mary Mobley (at computer) shared the PBL resources and tools she and her teaching partner created for their sophomore world studies project featuring the novel "The Hunger Games".
Tips for downloading: PDF files can be viewed on a wide variety of platforms -- both as a browser plug-in or a stand-alone application -- with Adobe's free Acrobat Reader program. Click here to download the latest version of Adobe Reader.
Documents to Help You Get Started
The Hunger Games Project Documents
Below are sample project-based learning documents from teachers Mary Mobley (English) and Michael Chambers (world history) of Manor New Technology High School in Manor, Texas. They team-teach a sophomore world studies class. These documents were used for their "Controlling Factors" project, a three-week project in which students learned about the global economic crisis of the pre-World War II era, how it led to the rise of totalitarianism, and the societal moral dilemmas that arose out of those conditions, and then drew parallels to similar fictional themes in the novel The Hunger Games. (Read more about it in the Step-by-Step Guide to the Best Projects.)
Project Form - completed for Hunger Games project
Project Form - blank sample
When Manor New Tech teachers create a project they must first submit a project planning form. The form was created as a guide for teachers by the Buck Institute for Education.
Project Calendar - completed for Hunger Games project
Project Calendar - blank sample
The project calendar lays out the state standards covered, objectives, and deliverables due for each day of the project from the entry event through the final project presentations.
The entry event is used to engage and motivate the students when the project is introduced. This video was created by Mobley and Chambers as the entry event for the Controlling Factors project.
Rubric - completed for Hunger Games project
Rubric - blank sample A
Rubric - blank sample B
Project rubrics usually include the following elements:
Driving questions
Overview of the project
State standards
Assessment criteria on content literacy, critical thinking, and oral engagement
Rhetorical strategies
Workshops
Workshops are provided during the project process to help clarify concepts, answer questions, and share information. Workshops for each project differ depending on student needs, but can include lectures, creating graphic organizers, and group discussions. For the Controlling Factors project, students had the option of writing about real moral dilemmas from events in history or creating fictional examples based on the book The Hunger Games. Then they had group discussions about these moral dilemmas. Below are student examples:
Additional PBL Documents from Manor New Tech High School
"Bourne to be Wild" -- World Geography
"When Opinion is Not Enough" -- International Culture and History
"The Role of the President" -- Government
"Re-creating a Planet" -- World Geography
Peer Collaboration Evaluations
Students present their in-progress projects to each other for peer review and use these peer-to-peer critique sheets to give each other feedback.
Students write group contracts detailing each team member's role on a project. The contract must be signed by all members at the beginning of a project.
Think Forward Brochure
Brochure on Think Forward's four-day conference on project-based learning.
Mary Mobley created this presentation on writing rubrics for the Think Forward Institute.
Podcast created by the Digital Media Literacy class. This must be viewed or downloaded using iTunes.
Culture at Manor New Tech High School
An overview of Manor New Tech for visitors, including mission statement, learning outcomes, and the school's commitments to their students
Manor New Tech's learning outcomes for all classes
Daily bell schedule for Manor New Tech
Additional Resources on the Web
Manor New Technology High School -- Manor New Tech's website
New Tech Network -- Nonprofit that works with schools and districts nationwide providing services and support to help reform learning through PBL
Buck Institute for Education -- Nonprofit dedicated to improving 21st-century teaching and learning through effective project-based learning
Educate Texas -- Educate Texas connects legislators, funders, business groups, school administrators and teachers to create change for Texas students
The System for Teacher and Student Advancement Program (TAP) -- A National Institute for Excellence in Teaching Initiative was created in 1999 to develop and retain highly effective educators
Texas Education Agency -- Texas state agency whose goal is to provide leadership, guidance, and resources to help schools meet the educational needs of all students
Dinah Zike Academy -- Institute for training teachers in the use of graphic organizers
Suggested Reading
PBL Starter Kit. John Larmer (2009) The Buck Institute for Education
PBL Handbook. Thom Markham, John Larmer and Jason Ravitz (2003) The Buck Institute for Education
Notebook Connections: Strategies for the Reader's Notebook. Aimee Buckner (2009) Stenhouse Publishers
Reviving the Essay: How to Teach Structure Without Formula. Gretchen Bernabei (2005) Discover Writing Press
Comprehension Connections: Bridges to Strategic Reading. Tanny McGregor (2007) Heinemann Educational Books
More Edutopia Resources on Project-Based Learning:
Edutopia's Project-Based Learning Core Strategy page
Article: Real-World Issues Motivate Students: An Overview of PBL
Video: An Introduction to Project-Based Learning
Article: Research Validates Project-Based Learning
Schools That Work Package: Project Learning in Maine
Resource Roundup: Project Learning: Model Schools with Solutions
Article: The PBL Launch Pad: Worthwhile Projects for High School Students
Article: How to Turn Project-Learning Setbacks to Your Advantage
Article: 10 Takeaway Tips for Project-Based Learning
Resource Roundup: A Reading List for Project-Based Learning
Resource Roundup: Free Resources and Downloads for Project Learning
School Snapshot
Enrollment
345 | Public, Suburban
Per Pupil Expenditures
$5,488 School
•

$6,909 District
•

$7,494 State
Free / Reduced Lunch
54%
DEMOGRAPHICS:
44% Hispanic
32% White
22% Black
2% Asian
5% English language learners
 4% Special needs
Data is from the 2011-12 academic year.