Project-Based Learning (PBL)
How to Turn Project-Learning Setbacks to Your Advantage
Teachers and trainers divulge their secrets for a successful project: Plan ahead, know your subject matter, and be flexible.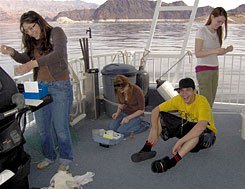 Credit: Courtesy of Don Curry
Chemistry Test: Sara, Arialle, and Mandy collect data to determine the amount of phosphates, nitrates, and dissolved oxygen in Nevada's Lake Mead. Angelo will share the results with students in Virginia via live video feed.
Don Curry is a firm believer in project learning, even when unexpected circumstances cause his plans to go awry. For nearly 15 years, the veteran science teacher has had students examine real-world problems as part of the environmental-studies curriculum at Silverado High School, in Las Vegas. Sometimes his classes learn as much from what goes wrong as from what goes right.
Last year, his students in grades 9-11 decided to research the desert city's water supply. The class divided itself into groups to study everything from the source of municipal tap water to the role that the U.S. Environmental Protection Agency plays in determining water-quality standards. To support the latter group, Curry arranged an after-school meeting between its four students and a water-district biologist at nearby Lake Mead National Recreation Area.
The entire class hoped the biologist would answer several questions they'd prepared about the prevention of threats such as giardia and about a U.S. Geological Survey report citing numerous chemicals in Lake Mead. But when Curry and his group arrived for their scheduled appointment, they learned that the biologist had been called away on an emergency and wouldn't be back before their project deadline.
Up until that point, Curry's whole project-learning lesson had gone according to plan. He might have panicked over the no-show, but after years of teaching through hands-on activities, he says, he's learned to embrace the unexpected. He got everyone back into the van and began thinking about a plan B.
As he drove, Curry noticed a National Park Service truck parked by side of the road, and he seized the opportunity. "I stopped and told the kids, 'These people are responsible for the park itself. Let's see what they're doing and if they want to talk to us,'" Curry recalls.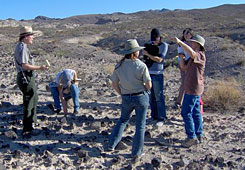 Credit: Courtesy of Don Curry
Reconstruction: National Park Service rangers show Las Vegas students how off-road vehicles destroyed nearby desert habitat and explain what needs to be done to restore the land.
The three park rangers were more than happy to speak with Curry's students. They explained that some visitors had recently driven off-road vehicles into the park without permission, which tore up some natural terrain.
Their job was to figure out how to restore the native plants and the desert crust, the top layer of hardened sand that protects the area's ecosystem. With a view of Lake Mead in the distance, the rangers explained that the health of the desert affects the lake's water quality because a healthy desert crust prevents sandstorms, which blow sand and debris into the water.
The students became so interested in desert crust, Curry says, that they started a separate project in which they volunteered their time to help restore it. "The hour-plus that we spent with the rangers was an education for me as well as for my students," Curry says, adding that the biologist later spoke to the class. "You really just stumble into these teachable moments. You can't plan for them."
Of course, the unpredictability of such open-ended learning often presents a huge challenge to teachers. Loosely defined projects can go in directions that teachers aren't prepared to handle, and even the best-planned activities can hit snags. So, how do educators turn potential disasters into enriching experiences for everyone? Edutopia spoke with teachers and trainers for some more advice:
Controlled Chaos
Teacher trainers suggest cultivating an open mind and embracing the organized chaos that comes with project learning. "You have to be flexible while the project is happening," says Tristan de Frondeville, a consultant in San Anselmo, California, who helps teachers add projects to their lesson plans. According to de Frondeville, educators should strive to balance both student engagement with academic standards and the amount of control and open-endedness in managing their classrooms.
"There may be times when you might not hit the ball out of the park with your students, so you stick with the deadline and ask students during a debriefing period afterward how you could have done the project better," de Frondeville says. "You never want to give up on a project, because students will then think that if they push back enough, you'll just give up."
To prepare for curriculum detours, de Frondeville recommends imagining the foreseeable directions a project might take prior to starting it. Content mastery is crucial. "It's easier to be flexible if you know the content well," he explains. "If students go off in a certain direction, you can bring them back and still hold them accountable to the standards."
Relinquishing control gradually can help teachers and students get used to more flexible lessons, says Carol Roth, who teaches earth sciences at Central York High School, in York, Pennsylvania. "Project learning was an adjustment for me because I'm a really structured person," Roth notes.
"For this, you need to think outside the box," she adds, "which is why I use scaffolding: At the beginning of the semester, I give my students more structure and rubrics, and I talk them through the project. As the semester goes along, I take some of that away and give more of the responsibility to them so they are doing more for themselves."
De Frondeville adds that as teachers become more experienced with project learning, they're more readily able to play projects by ear within certain parameters, which ultimately enhances the lesson. "You're trying to light a fire of engagement in your students, and if your students are going in a direction that looks promising, then you need to have the extra 'logs' of standards and resources so that you can feed that fire."
In other words, turning an unexpected incident into an educational triumph isn't a matter of luck. Teachers should anticipate inevitable twists in project-learning lesson plans. De Frondeville suggests that educators completely new to project learning try doing exercises from books, such as Inspiring Active Learning, by Merrill Harmin. This title offers simple ten-minute classroom exercises that help teachers make the transition to a more open-ended teaching style.
Nobody's Perfect
Regardless of a teacher's experience, anyone tackling a project for the first time should be willing to learn alongside the students. "Whenever you do a new project, it's always trial and error," says Rebecca Pollack, a humanities teacher at New Technology High School, in Napa, California, who has also trained teachers on project learning for the New Technology Foundation.
"You never know what your students might struggle with or whether it will make sense to them
Pollack acknowledges that, for some teachers, accepting this imperfection is easier said than done. "It can be hard," she notes. "It's a very different mind-set. You're not always the driving the direction of the class, you have to admit you don't know some things, and you have to admit that you could have done some things better."
Teachers shouldn't worry too much about making mistakes, because miscalculations sometimes lead to "a-ha!" moments for students, says Pamela Shoemaker, a technology-integration coordinator for the Walled Lake Consolidated Schools, in Walled Lake, Michigan.
When Shoemaker was teaching middle school science and social studies classes, her students wanted to know why gadgets use different kinds of batteries, so she created what she thought would be a quick-and-easy project: She put together an Excel spreadsheet of battery data and asked students to create a graphic that visually represented the information.
"I thought it would take them a half hour and it would be no big deal," Shoemaker recalls. Instead, her students struggled to represent the data clearly. "At first I thought, 'Uh-oh. This was a bad idea. It's a total flop.' I had to work through being uncomfortable and let it go."
Shoemaker knew she could turn the situation around. She created a document with each student's work in it, and the next day, she asked them to decide which graphs were the best, and why. In the process, Shoemaker says, students came to understand the basic concepts of graphing data that she'd assumed they already knew.
"It was one of those unexpected teaching moments." she says. "And having them figure out things on their own was more valuable than if I had just given up and shown them how to do it."
What's more, bumps in the road usually lead to a better, smoother ride in the future. "A project really isn't going to be good until the third time you do it," says Rebecca Pollack. "Maybe the project is a little confusing the first time around, or it doesn't fit together as well as it could.
But the students are still getting something out of it," she adds. "They're still communicating, collaborating, managing their time, and using critical-thinking skills. Even if you're still improving on that project, the students are going to learn and get the content."
Bernice Yeung is a freelance writer in San Francisco.
How to Improve Your Project
Reviewing completed projects is an effective way to avoid unwanted surprises and ensure that classroom endeavors succeed. Educators at New Technology High School, in Napa, California, routinely analyze the strengths and weaknesses of their hands-on curricula, and they adjust plans accordingly.
"We revisit every project and try to make it better," says humanities teacher Rebecca Pollack. "We figure out how this group of students is different from the previous year's group, and what didn't work well and what did work well. Then we implement changes after reflecting on it and having the students give us feedback."
As an example, Pollack shares how she reworked an integrated U.S. history and literature project on the Great Depression designed by another teacher -- and how she revamped her grading rubric.
Year One
As part of a project that she team taught with a U.S. history teacher, Pollack asked students to read John Steinbeck's The Grapes of Wrath. Beforehand, she divided them into groups and asked them to create a newspaper about the Great Depression jump-started by what they'd be learning from history content and from reading Steinbeck's novel. Because her instructions about how to create and divide up the content creation weren't very specific, some students failed to mention The Grapes of Wrath in any of their articles.
"Even though everyone had to read the novel, they only had to have one article in their group newspaper about the book," Pollack says. "That meant that only one person out of the entire group had to engage with the novel to complete the project." As a result, when she gave a quiz on the book, a number of students didn't do well.
Year Two
Pollack changed the assignment, requiring each student to contribute a story about The Grapes of Wrath to the newspaper's literary section. Articles ranged from a book review to a profile of Steinbeck. "There was more of a balance between the history and the English piece of the assignment, and all of the students had to engage with the book," Pollack says.
"As a result, all of the students could participate more fully in class discussions about the book because they all had to write something about it," she adds. Pollack says she noticed that more students were completing the assignments that went along with the readings, and there was more lively participation during class discussions.
Year Three
Pollack reports that the project worked well in the third year because, by then, both she and her coteacher had enough experience with the project to run things effectively and smoothly.
Grading
Pollack says she changes the grading rubrics for projects nearly every year. The first rubric she used to grade the Great Depression assignment included some evaluations but it didn't have all the learning outcomes she sought, so she has since expanded the rubric to include critical thinking and work ethic, which she says are "components and descriptors that are more specific to what we're looking for in our students."