Project-Based Learning (PBL)
10 Takeaway Tips for Project-Based Learning
At King Middle School and Casco Bay High School, in Portland, Maine, every student works in a widely hailed project-learning method called expeditionary learning. Discover what your school can learn.
It may be diminutive, but the state of Maine is hardly diffident. The Pine Tree State set a new standard for teaching 21st-century skills when lawmakers agreed to put laptop computers in the hands of every middle school student and teacher -- a program that's now being expanded into high schools. At its best, the program has transformed teaching and learning into collaborative expeditions and turned students into investigators and scientists.
It's not just about the technology. A key lesson from the profiles of the Schools That Work series is that technology by itself can't make these changes. It's really about changing the nature of teaching. Sure, the laptops did make it easier to conduct research and create multimedia projects, but there are many ways to engage students in compelling and challenging work using whatever technology you have. (Meet others in the Project Learning Community Group and the Technology Tools Community Group for more discussion on this.)
Begin with the End in Mind
Teachers at King Middle School and Casco Bay High School plan backwards. They look at the standards and skills they want their students to learn and then develop a project that meets those goals. Another benefit to this type of planning is that it lets you figure out what resources you'll need so you can gather them, including local experts.
One piece that must come first, however, is the driving question. This question focuses your project, and it should be compelling and open ended and appeal to your students' sense of social or environmental justice. (See Six Steps for Planning a Successful Project).
Make a Tough Topic Fun
"This proposal has been a matter of considerable controversy," writes the author of a 1980 article on a type of bacteria. So far, so good, but consider the sentence preceding it from the Archives of Microbiology: "Chlorobium limicola has been proposed to assimilate CO₂ autotrophically via a reductive tricarboxylic acid cycle rather than via the Calvin cycle." Ouch.
That's the kind of information that science teacher Ruth MacLean was up against when designing a unit on bacteria for her seventh-grade students, that is until the Internet came along with its vast resources and Web sites targeted to all ages and levels of understanding. MacLean turned the unit into a vibrant interdisciplinary expedition on "good" bacteria, taking students to a local college lab to grow and kill their own bacteria, to a farm to learn about soil nutrients, and into the classroom to learn comic-book art from a professional. The result was Soil Superheroes, a humorous look at an important ecological subject.
Focus on Standards -- But Not Too Many
Be sure your project is focused on important content standards, but don't try to include too many in one project. According to the project-based learning experts at the Buck Institute for Education, you shouldn't pile on more than you can teach and access well. Casco Bay High School humanities teacher Susan McCray created a rubric to help her determine the standards to include and how best to get her students to meet them.
Start Small When You're New
Project learning doesn't happen overnight or even over one school year. It's a process that veteran teachers say takes up to five years to fully implement. (See "What Works in 5 mins, 5 days. . ."). In the beginning, limit the scope of your projects. You can get more ambitious as you gain experience.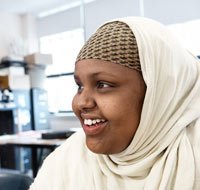 Credit: Michael Warren
Diversity Comes to Town: As a resettlement region for Catholic Charities Maine, Portland is becoming an international city.
You may also have to start this process alone or with one other gregarious teacher. Creating a cultural shift in a school from teachers working alone in their classrooms to a model of collaboration and interdisciplinary projects usually requires support from the top. (See Ten Big Ideas of School Leadership).
Test-Drive the Final Product Before Starting the Project
What sounds great in the teacher meeting may not work out so well in practice. As part of the planning process at King Middle School, teachers produce the final product to check for snags. You don't want to find out half way through that the school's computers don't have the right software or the product is too complicated for students in your grade to complete on their own. (Take an interactive tour of a finished pamphlet on the benefits of bacteria).
Start Your Project with an "Entry Event"
This is the kickoff, so do something that grabs students' attention and launches the inquiry process. The event could be a guest speaker (make sure the person is an engaging storyteller), field trip, lively discussion, puzzling problem, interesting video, or thought-provoking activity or piece of reading.
Keep Students in the Loop
Students work best when they feel they're a part of the process and understand how it relates to school and their lives. Share the project goals and expectations with your students and let them know what they'll be learning and how it will come together in the end.
It's also important to be open to feedback. For instance, these days, it's common for students to know more about technology than their teachers. They may have some computer shortcuts or ideas for the final product that you didn't even know were possible.
However, there are some aspects of the project that you will need to control. For instance, it's better if teachers assign students to groups, otherwise students grab their buddies, and that can lead to trouble down the road. Kids have a hard time telling friends to do their share when it comes to group work. Some teachers say they've had to allow group leaders to "fire" their friends and make them find another work group willing to take in a slacker.
Set Clear Deadlines -- But Allow for Some Flexibility
This may be one of the most challenging tasks for teachers. We all know how easy it is to go off on a tangent or allow work to slip by for a day or two or even more. Teachers at King and Casco Bay create a schedule and review it with their students. They also have benchmarks throughout the project, such as having students keep a weekly planning brief to make sure they don't fall behind.
Create a Balanced Assessment Plan
Create rubrics for each major product in the project to provide students with specific guidance and to make grading criteria clear. Consider the content standards and skills you want the students to learn and make sure the final products allow each student to demonstrate his or her knowledge and display an understanding of the subject matter, show competence in the essential skills, and understanding of the relationship between the broad concepts of the unit and the student's individual and group work.
Base project grades on a variety of criteria from a variety of sources instead of assigning one grade for the whole project. Include a mix of team-created and individual tasks so each student can show what he or she has learned.
Conclude Projects with a Bang
Include a culminating product or products that allow students to demonstrate the content standards and skills they've learned. It doesn't have to be huge but definitely should be an event that has a real audience and real-world connection. Build in time for a dress rehearsal where you'll assess standards. Give students as much leadership opportunity as possible. Invite parents and any relevant community members and experts. Casco Bay High School students who worked on Susan McCray's Give Me Shelter project presented their narrated slide shows of local homeless people before an audience that included the people they interviewed.
And don't forget to allow time for reflection and celebration when it's done!