Research
Integrated Studies Research Review: Evidence-Based Practices and Programs
Evidence points to seven key approaches to integrating curricula that have been shown to be effective.
May 19, 2013
Updated December 1, 2015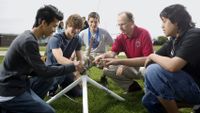 Learn more about these schools.
Career academies integrate academics with technical know-how in an occupation or industry, giving students a wide range of options after high school. Photo credit: Ethan Pines
In this section, we describe seven approaches to integrating subjects, along with recommended practices and programs that have been shown to benefit learning:
Science and Literacy
It's not enough just to know about science; scientists also have to be able to describe their observations, explain what they know, and debate with others, using sound evidence and reasoning. When science and literacy lessons are integrated, students demonstrate greater skill in all of these areas (Cervetti, Pearson, Barber, Hiebert, and Bravo, 2007).
Practices
Reinforcing literacy-based skills in science by describing, explaining, inquiring, analyzing, debating, and engaging in dialogue about science concepts through reading, writing, and journaling activities
Hands-on science experiments
Programs and Outcomes
Seeds of Science/Roots of Reading (Seeds/Roots) is an integrated science and literacy program that involves elementary students in researching and writing about scientific topics. In the Seeds/Roots unit on shoreline science, second and third graders learn about the properties of sand and other earth materials, as well as erosion, organisms' environments, and human impact on the environment. An independent study found that students participating in Seeds/Roots showed significant improvement in science vocabulary, content knowledge, and writing (Goldschmidt and Jung, 2010). Teachers also reported that the Seeds/Roots program was usable, effective, and engaging (Goldschmidt and Jung, 2010).
Science IDEAS (In-Depth Expanded Applications of Science) integrates hands-on science experiments, journaling, and reading and writing about science in daily time blocks of one and a half to two hours (45 minutes for K-2). Students who participated in Science IDEAS showed increased science and reading comprehension on national tests (Romance and Vitale, 2012a, 2012b). Students who participated in Science IDEAS during early-elementary grades showed significantly higher achievement on national tests in science and reading comprehension, and continued to show higher achievement in science and reading comprehension in upper-elementary school and middle school, as compared to students who received traditional instruction (Romance and Vitale, 2012a, 2012b).
Concept-Oriented Reading Instruction (CORI) is a model for relevant reading instruction that can be used in social studies and science. It is an instructional program for grades 3-8 that merges reading instruction with hands-on science activities. The program teaches students a wide range of skills, from reading about science topics to developing science inquiry skills like observation, data collecting, and drawing conclusions. A recent study of 1,159 sixth-grade students using both a correlational and a quasi-experimental approach found that students participating in a CORI program (who had had traditional reading lessons) showed higher motivation, engagement, and achievement compared to students in a traditional reading/language arts program alone (Guthrie, Klauda, and Ho, 2013).
Edutopia Case Study
Ralston Elementary in Golden, Colorado, practices departmentalization (students having a different teacher for each content area) and integration (the combination of two or more subject areas) to foster a more authentic and purposeful learning environment. In the upper elementary grades, one teacher combines math and science while another teaches language arts and social studies, giving their students a deeper understanding of the content and its applied interconnectivity.
Science and the Environment
Classrooms can integrate learning across different subjects within a school, as well as beyond school walls. Environment-based education programs emphasize investigations of natural and social systems in the local environment. Students in environment-based education (EBE) programs such as expeditionary learning participate in community and fieldwork activities. They develop awareness of local and global issues while experiencing scientific phenomena through real-world examples. Pollution, recycling, climate change, health, technology, and energy are just a few examples of scientific topics that can promote civic awareness while fostering a deeper understanding of science and its applications.
Practices
Identifying and investigating community issues that link classroom material with real-life experiences
Situating science in society to help students learn to use their knowledge of scientific concepts and processes to make decisions, participate in civic and cultural affairs, and contribute to economic productivity
Programs and Outcomes
Expeditionary learning is an EBE program that has had a positive impact on student learning across schools in multiple states (Borman, Hewes, Overman, and Brown, 2003). Expeditionary learning programs incorporate local communities and environments to enhance student learning through interdisciplinary, collaborative, project-based learning activities. An analysis of six studies found that expeditionary learning programs have a significantly positive effect on student achievement (Borman et al., 2003).
Students who participated in garden-based learning programs showed higher test scores in science and increased food knowledge (Blair, 2009; Klemmer, Waliczek, and Zajicek, 2005; Ratcliffe, Merrigan, Rogers, and Goldberg, 2009; Smith and Motsenbocker, 2005). Garden-based learning has been linked with higher levels of science achievement (Blair, 2009; Klemmer et al., 2005; Smith and Motsenbocker, 2005) and an increased willingness to try a variety of vegetables (Ratcliffe et al., 2009).
Edutopia Case Studies
Science, Technology, Engineering, and Math
Specialty schools devoted to the integration of science, technology, engineering, and math (STEM) have existed in the United States since the 1930s (Means, Confrey, House, and Bhanot, 2008). They generally focus on middle school and high school curricula that provide hands-on, project-based activities, as well as internship and mentorship opportunities and career and technical training (Means et al., 2008). STEM schools aim to promote a future STEM workforce and maintain the U.S. position as a leader in innovation. According to the National Research Council (2011), U.S. advances in science and technology account for "more than half of the tremendous growth to per capita income in the 20th century."
Practices
Connecting science, technology, engineering, and math subjects to real-world projects and careers
Hands-on, project-based activities
Independent research projects
Internship and mentorship opportunities
Outcomes
Middle school and high school students participating in an integrated science, technology, and math curriculum showed improved attendance and improved math and science achievement on assessment tests (Satchwell and Loepp, 2002; Wicklein and Schell, 1995).
Studies have shown that integrating science, technology, and math can enhance learning and instructional quality over traditional methods by using hands-on inquiry-science activities and projects and by providing sustained professional learning supports (Satchwell and Loepp, 2002; Wicklein and Schell, 1995).
Science investigations that involve active thinking and drawing conclusions from data are more likely to increase conceptual understanding as compared to more passive learning methods (Minner, Levy, and Century, 2010).
Activity-based science allows students to develop stronger process skills and achieve gains in creativity, intelligence, language, and math (Bredderman, 1983).
Edutopia Case Studies
MC2 STEM High School, in Cleveland, Ohio, demonstrates how a successful high school integrates internships, service learning, college credit, and project-based learning. Community partnerships provide tutoring and mentoring, increasing the social support for student learning. Their capstone projects are developed using a field-tested process model for designing project-based learning curricula that integrate multiple subjects and industry standards.
High Tech High, in San Diego, California, demonstrates how integrated studies, project-based learning, and technology integration promote engagement and learning. Hands-on projects at this textbook-free STEM school incorporate multiple subjects and span several weeks. For example, in a team-taught biology/multimedia art course, students created informational videos about blood-related health issues, and then displayed their videos on laptops as art pieces at a local gallery to raise health awareness and to benefit the local blood bank.
Charles R. Drew Charter School, in Atlanta, Georgia, uses design thinking to teach engineering concepts to elementary students. Watch the school's engineering lab and Tinker Yard in action, where students do design-and-build projects to learn lifelong critical thinking and problem-solving skills.
For research findings on ways to integrate technology in science contexts, don't miss Edutopia's research review of technology integration practices for inquiry science.
Financial Literacy
Adults appear to learn best when financial education is personalized and can be applied to real-life situations, for example, when individuals need to accomplish a personal goal such as purchasing a home or saving for retirement (Hirad and Zorn, 2001; McCormick, 2009). Since K-12 students tend to lack such financial goals, getting them familiar and interested in finance is key. Teaching financial literacy in schools from the earliest grades can help establish a foundation to build upon (McCormick, 2009).
Practices
Curriculum linked to analysis and critical thinking
Stock market game in middle school or high school
Outcomes
People learn financial concepts best when they're motivated and taught through activities such as a stock market game or other simulation (Mandell and Klein, 2007).
Students who play a stock market game in class outperform average levels on financial-literacy survey measures (Mandell, 2008).
Understanding of financial concepts is maximized when financial education is personalized and applied to real-life learning situations (Hirad and Zorn, 2001; McCormick, 2009).
Edutopia Case Studies
Ariel Community Academy, in Chicago, Illinois, shows how financial literacy can be integrated across subjects by teaching decision-making skills in real-world financial contexts and by having upper-elementary and middle school students invest in the stock market and create an investment portfolio that reflects their values as a final project.
Walter Bracken STEAM Academy Elementary School, in Las Vegas, Nevada, created the "Piggy-Bank Friday" program to help students learn how to manage money. Students set up a real bank account, make weekly deposits with bankers at their school, track their balances, and receive monthly financial literacy lessons. Through the program, students have saved over $30,000 in one year.
Arts Integration Across All Subjects
Music, drama, dance, and visual arts can be integrated with any subject. Research has shown that arts integration engages students in learning, reduces misbehavior, strengthens community, and can improve test scores, particularly among at-risk youth, (Catterall, Dumais, and Hampden-Thompson, 2012; Upitis, 2011; Smithrim and Upitis, 2005; Walker, McFadden, Tabone, and Finkelstein, 2011). Numerous arts integration programs provide professional-development training and support, including several with evidence of success such as those below.
Practices
Integrating arts such as music, dance, art, or theater into social studies, math, science, and English classes
Specialized tutoring focused on transferring art skills to other academic subjects
Outcomes
Arts integration may improve learning by leveraging mental activities shown to help long-term memory, such as rehearsal of meaning, pictorial representation, and information generation (Rinne, Gregory, Yarmolinskaya, and Hardiman, 2011).
Students participating in arts-integrated lessons show increased language and math scores on standardized tests and improved engagement, motivation, and sense of community (Smithrim and Upitis, 2005).
Students participating in arts-integrated curricula reported enjoyment and interest in their schoolwork (Barry, 2010; Hendrickson and Oklahoma A+ Schools, 2010; A+ Research and Results page).
Arts integration is effective for students at risk of school failure (Oreck, 2004).
A four-year study paired teaching artists with 4th, 5th, and 6th grade teachers in six schools to example the impact it would have on student academic performance. These arts-integrated schools had higher test scores and a narrowing of the achievement gap, when compared to similar schools (Burnaford and Scripp, 2012).
A study of nearly 900 4th and 5th grade students in 32 schools found that students who participated in arts-integrated classrooms were more creative, engaged, and effective at problem solving than students who didn't participate in arts-integrated classrooms (Chand O'Neal, 2014).
A literature review examined 18 empirical studied published between 2000-2015 and found that arts participation helped young children develop social skills (such as helping, sharing, caring, and empathizing with others) and emotional self-regulation (Menzer, 2015).
Programs
Edutopia Case Studies
Wiley H. Bates Middle School, in Annapolis, Maryland, is a fully arts-integrated middle school that has shown strong improvements in student achievement. Every teacher is trained in arts integration, and they track student performance in lessons taught through arts integration. Check out the Lesson Plans and Resources for Arts Integration provided by the educators at Bates.
Charles R. Drew Charter School, in Atlanta, Georgia, is a STEAM (science, technology, engineering, arts, and math) school, and project-based learning is their instructional delivery method. By integrating PBL and STEAM, they empower students to take ownership of their education. In this case study, learn how students integrate multiple subjects to answer the question, "How can we better prepare for Atlanta's changing weather?"
Walter Bracken STEAM Academy Elementary School, in Las Vegas, Nevada, engages students by letting them choose outside-the-box enrichment classes, like toy making, drones, and candy chemistry. These classes, called Explos (short for explorations), allow teachers to get creative with developing Science, Technology, Engineering, Art, and Math (STEAM) lessons.
Internships and Service Learning
The dropout-prevention literature emphasizes the importance of making school relevant to students' lives and ensuring that school is engaging and challenging. In a 2006 survey of students who dropped out of high school, 81 percent said that if schools provided opportunities for real-world learning, including internships and service learning, their chances of graduating from high school would have been greater (Bridgeland, Dilulio, and Morison, 2006). The study also found that clarifying the links between finishing school and getting a job may convince more students to stay in school (Bridgeland et al., 2006).
Practices
Providing a context for learning and promoting college and career training by placing students in internships in local organizations and businesses
Allowing students to explore careers and connect with adults who can serve as role models and mentors through internships and work-based learning programs
Integrating community service with academic study through service learning; students typically identify community needs (such as recycling, health awareness, or pollution) and develop services to address those needs
Aligning service activity with academic goals and providing an opportunity for student reflection and celebration
Creating opportunities for authentic learning through service learning, challenging students to study real problems in real time for real people, with real goals and consequences (Furco, 2010)
Programs and Outcomes
Graduates of career-themed high schools that emphasized the connection between school and getting a good job earned on average about 11 percent more per year eight years after graduating as compared to graduates of traditional high schools (Stern, Dayton, and Raby, 2010).
Students participating in workplace mentoring and internships have improved grades, comparable or better attendance, and higher graduation rates than students in comparison groups, as well as increased motivation, self-confidence, and career-planning skills (Hughes, Bailey, and Karp, 2002).
Nearly 70 studies on service learning indicate that service-learning programs have a positive impact on students' academic, civic, personal, social, ethical, and vocational development (Furco and Root, 2010).
Students participating in service learning show increased academic performance, attendance, motivation, and self-esteem and reduced disciplinary problems and likeliness to drop out (Billig, 2010; Furco, 2010; Furco and Root, 2010).
Students participating in civic-learning opportunities such as learning about current events or participating in service-learning projects showed increased commitment to volunteering and willingness to learn about state and local issues (Kahne and Sporte, 2008).
Service learning engages students in local community issues, provides students with autonomy and opportunities for self-expression, encourages teamwork, teaches time management, and rewards students for goal attainment (Billig, 2010).
Service learning increases student motivation by focusing on problem-solving skills, active learning, and student choices in instructional settings (Billig, 2010).
Kids Voting USA is a program that includes classroom activities such as constructing an election bulletin board where students share election news, mapping out government services provided to households (such as public parks, libraries, transportation, and police), and discussing potential voting barriers such as polling hours, location, and voter registration. Students who participated in Kids Voting USA increased their political knowledge and reported that they felt better equipped to make political decisions that reflected their attitudes (Meirick and Wackman, 2004).
Edutopia Case Studies
Second-Language Learning and Global Competency
Practices
Language immersion for 50 percent of school time throughout the duration of the program
Global competency curriculum focusing on preparing students for a globalized future and emphasizing creativity, life skills, and higher-order thinking skills such as reasoning and problem solving
Outcomes
Research suggests that learning languages at earlier ages and over longer periods of time support second-language acquisition (Tochon, 2009).
According to a meta-analysis of 63 studies, bilingualism produces a range of benefits, including increased ability to control attention and keep information in memory, better awareness of language structure and vocabulary in language, and improved skills in creative thinking and problem solving (Adesope, Lavin, Thompson, and Ungerleider, 2010).
Bilingual students also attain higher levels of achievement on standardized tests in reading, writing, social studies, and math and report higher levels of self-confidence (Tochon, 2009).
Students in language-immersion schools demonstrate high levels of academic achievement and do as well as or better than English-only learners on standardized tests. These benefits extend to English-language learners as well as native English speakers (Gómez, Freeman, and Freeman, 2005; Palmer, 2009; Thomas and Collier, 2002).
Asia Society's International Studies Schools Network (ISSN) currently includes 34 schools that integrate global perspectives and give students the opportunity to study one or more languages. Across the ISSN network, which predominantly serves students from economically disadvantaged backgrounds, approximately 92 percent of students graduate from high school on time, and among those, more than 90 percent go on to college (Wiley, 2012).
Edutopia Case Study
John Stanford International School, in Seattle, Washington, shows how an internationally themed immersion curriculum is producing high levels of student learning and achievement. John Stanford International School's curriculum involves learning not just a second language but also about as many cultures as possible. The school's emphasis on global competency was inspired by the book Educating for Global Competence, which describes curricular components of Asia Society's ISSN.
Continue to the next section of the Integrated Studies Research Review, Avoiding Pitfalls.