Technology Integration
Jaw-Dropping Classroom 3D Printer Creations
Learn what 3D printing is, what students like to create with this technology, and the low-cost, high-impact potential of improving the world through creative fabrication.
After the school day has ended at J.H. Rose High School, Rob Puckett and his two sons, Calder and Rylan, watch a nozzle in a white box extrude resin. It's a scene reminiscent of 1976, when neighbors would crowd around a family's microwave and stare at a hotdog cooking in under a minute. But unlike a microwave, Puckett's classroom 3D printer aligns with the printing and graphic arts instructor's 21st century maker ethos.
Sitting in the middle of a studio that is stacked shoulder-high with boxes, Apple computers, spools of cheap plastic filament, and a variety of unrecognizable objects is Puckett's Ultimaker 3D Printer -- a box with no top or front panel. As it works, ambient music emanates from the printer -- the sound that R2-D2 and a cheerful dolphin might make if they sang a duet five feet underwater.
"I like the sound, too," says Puckett. "I've been meaning to make an audio recording of it."
What Is 3D Printing?
Some background: 3D printing describes a process in which solid 3D objects are created, one layer of material after another, from a single digital file. An individual starts the process by option a) creating an entirely original object with a 3D modeling program, or option b) downloading a modifiable 3D template from sites like Instructables, YouMagine, TurboSquid, CubeHero, or the popular MakerBot Thingverse community.
Option c) involves using a 3D scanner to take millions of measurements of something in the real world. Puckett demonstrates this by rotating his son slowly on a stool. A 3D scanner on a tripod positioned four feet away captures Calder's image and translates that data into a digital bust of Calder on a nearby computer.
3D scanning can also be used to reverse engineer an object, thereby removing the separation between consumers and producers. For example, when a small piece of his tripod broke, the instructor printed another piece rather than ordering one from the manufacturer. Now that 3D scanner apps can be downloaded on an iOS, Android, or Windows device, anyone with a smartphone can capture and model anything in the world and then customize it.
video
Further modifications of the 3D object can be made in a computer-aided design (CAD) 3D modeling program.
Sketchup Pro is one of the easier CAD programs and has a free license for educators. TinkerCad is also a free online 3D modeling tool. It takes a few seconds for Rob Puckett, manipulating an eraser tool, to smooth out some spikiness on Calder's digital face.
What Do Students Make With a 3D Printer?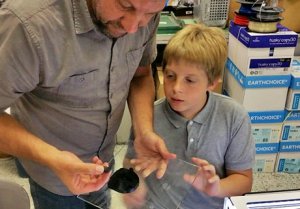 Puckett's students enjoy making Pokeballs, and the basketball coach has requested customized bobble heads for each of his players. A girl in his class has almost completed a cuff with a slot to hold an iPod. Though it resembles Batman's forearm armor, the entire cuff weighs about the same as a Sharpie marker.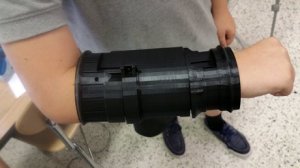 Rob Puckett lets his students experiment to see what kind of "dramatic lighting" gives the best 3D scan. They use open source Cura, 3D print preparation software, to resize or hollow out the interior of whatever his Ultimaker 3D printer creates. Students can print a small bust of themselves in about an hour. Sometimes Puckett lets the machine print all night for a bigger project. When a job is finished, the Ultimaker puts itself to sleep.
What's the Potential of 3D Printing?
This is where it gets crazy. 3D printing is already used to make. . .
3D printing in classrooms, Puckett believes, is a good way for young inventors to learn the principles of design. He's also excited by the technology's potential to help students think through how to enhance the way that humans interface with the world.
Over the summer, Rob Puckett is learning how to print prosthetic limbs and hands for children. A global network, E-nable, matches 3D printer owners with children who have missing limbs. So far, they've delivered over 1,500 printed hands at a material cost of $35 each. Professionally made equivalents are about $8,000. Puckett plans to have his students participate next year.
For teachers wanting to introduce 3D printers to their students, Rob Puckett offers advice: "Let them play with it. Don't be afraid to break it." He also recommends purchasing a printer that has good customer support. In the meantime, high school kids will continue to wander into Mr. Puckett's room to stare at the future.