Maker Education
Making Room for Making
To bring maker education to your school, find a space, purchase equipment and supplies carefully, budget and partner creatively, and encourage ongoing student involvement.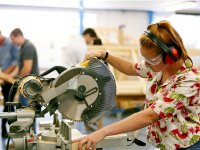 As a teacher, the library has always been an important, almost sacred place for me to go with my students. It was an opportunity to use the computer lab once in a while and look for books to help support research. Over the past few months, the library has taken on a new and different role for all students and teachers.
Our library has become a place where I hang out during my prep period and brainstorm with my amazing teacher librarian, Courtney McGuire. We have been looking at our space and trying to think of ways to bring more students in during their study period. We have students who are interested in many different topics but don't have the access to the resources for fully exploring them. As Courtney and I looked over the underutilized resource section, we thought about turning the area into a makerspace.
We immediately started thinking about what we wanted to see in this space and talking to students and other teachers. Courtney and I discovered that a student group has been working with a science teacher to create a makerspace in another part of the building -- and eventually turn it into a full classroom for making! Once we got the two groups together, a student led a presentation outlining what they wanted to accomplish and how teachers can help them achieve their goal. It was so exciting to see students take control of a project like this. The best part of these two groups coming together is how they are going to complement each other. The makerspace being created in the library will be the staging ground for transforming the former woodshop classroom into the maker classroom that the students are hoping to create. This is a great example of teachers and students working together to create something amazing for the entire school.
Here are some of the things we have done to make the makerspace happen at our school. Maybe these will help you in planning your own makerspace.
1. Find Space
One of the things that was really important was finding a space that was accessible to all students during the day. Placing the makerspace in a room that has classes or is not accessible will prevent students from truly utilizing the space. The library made the most sense for us because it is the hub of the school, it's always staffed, and students can always access it before, during, and after school. Find the space that fits best for your students.
2. Don't Just Buy Stuff
Our student leaders emphasized that the space will need some start-up technology (computers, printers, etc.) and that it should come pre-filled with all kinds of tech goodies. Equipment should be purchased based on students' needs for the projects they want to create. They would present the project they want to work on and make the argument for the materials they'd need to complete it. If multiple students find a need for a certain piece of equipment, then it should be purchased. The guidelines for these purchases will be created with the students so that there's a clear understanding of what is expected. This prevents really expensive equipment from being purchased and not used. It's a wonderful idea that helps save money during tough times.
3. Beg, Borrow, and Deal
Speaking of money, funding a makerspace is not always a cheap prospect. Teachers and students need to come together and find the money to accomplish some of the things needed for their spaces. One way to raise money is to crowd fund -- asking people from all over the world to support small parts of the makerspace to give students some of materials they'll need for their projects. Local businesses are also a great resource for schools. Having them sponsor aspects of the makerspace could help generate the revenue needed to outfit the space. The room will be as awesome as you want if you are willing to put the boots on the ground and work for the money.
4. Talk to Students
This has been big for us as we develop the makerspace. Talking to students and asking for their feedback is important in creating a space that students are supposed to utilize. Our students are taking an active role in the design and layout of their makerspace and will use the library space to help make those plans happen. Their feedback has really shed new light on what the space will be used for and how we can get more students to use it. They should always have a voice in creating spaces for them. Not doing so is just a waste of time and money.
These four tips in creating a makerspace can help you get started building a space for your students to explore things that interest them. I can't wait to share with all of you the progress we will make over the coming months. We're always looking for more information on how to make the space better, so please leave comments below and let's all share the different ways we can make better learning environments for our students and teachers.