Project-Based Learning (PBL)
How Maker Culture Builds Stronger Learning Communities
When a new school opens its doors, where does the culture come from? What makes a school feel special to those who spend time there? How do you transform a physical space into a community of learners?
Answers to those challenging questions are emerging from Science Leadership Academy at Beeber, a public high school that opened in Philadelphia at the start of the 2013-14 school year. SLA@Beeber shares the inquiry-driven, project-based model that has distinguished the widely acclaimed SLA-Center City since it launched in 2006. The new campus is organized around the same core values -- inquiry, research, collaboration, presentation, and reflection -- that have enabled SLA students and staff to thrive.
While the instructional model and technology infrastructure for SLA@Beeber are cutting edge, the physical plant is not. The school is housed in "an old hulk of a building that could use some love," admits architect Alex Gilliam.
Gilliam, founder and director of an innovative youth leadership program called Public Workshop, has been partnering with SLA@Beeber students to remake their environment. In the process, they're building a strong culture that values creativity, collaboration, and learning in the open. In January, SLA@Beeber had the ribbon cutting for a makerspace, a place full of possibilities for making change.
In a recent conversation, Gilliam shared some insights about engaging youth in the design of their own communities. Here are the highlights.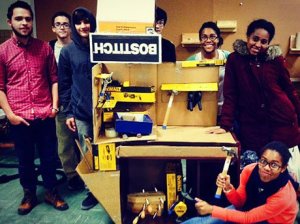 Edutopia.org: How did the building projects at SLA@Beeber get started?
Alex Gilliam: A group of ninth-grade girls started a club called Random Acts of Kindness. I did a quick design-thinking analysis with them, and they prioritized needs [for their new campus]. They landed on some new signage and the idea of building these rolling hangout pods -- places in the common areas of school where students can just hang out.
And this happened outside of regular class time?
Right. Doing this kind of work takes a different mindset. So after school, these young ladies would come to work in our space at Public Workshop, where we have power tools and room to work. Just getting there during the winter months required tenacity on their part. They had to trudge through some significant storms, but that helped them grow as a team. The experience allowed them to feel special in a way that was important to get the project done.
Feeling special -- that's something some kids never get to experience at school, right?
Absolutely. It's so important to feel that you're doing something that no one else is doing, anywhere. You have to take the time to grow a culture of greatness. We typically start with a small team. It's small enough and safe enough so students will take risks. They wind up working harder than they've ever worked before. That glue holds the group together later, when we start to bring in more people.
So the girls spent months off site, designing and fabricating these amazing-looking hangout pods. (The pods are colorful, portable, and designed with angles that can fit together in different configurations.) Tell us what happened when it was time to assemble the pods back on campus.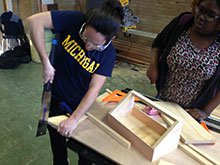 Photo Credit: Alex Gilliam, Public Workshop
At the end of a school day, the girls brought out the power tools and got to work assembling these massive pods. The noise attracted attention. Pretty soon, guys were stopping to ask if they could help, and the girls were teaching them how to use sanders, drills, and joiners. Teachers and the principal came by and got into conversations about bringing projects like this into the regular school day.
Have you seen similar scenarios play out with other Public Workshop projects where the "makers" are suddenly in the spotlight, teaching others what they've learned?
It happens all in the time in what we call our "tiny WPA" projects. We've worked with youth to build on vacant lots and street corners. They often sketch at full scale and do rapid prototyping in public. It's like performance art -- people stop to watch and ask questions. Often, a young person who's been seen as an underdog is doing something that nobody thinks is possible. And everyone gets jazzed. Youth can model the behaviors that adults may have forgotten.
It sounds like you've been developing this model for some time. Can you share a little of your backstory?
I've been doing this type of work, in various contexts, since 1998. I worked in one rural school where the building was in such bad shape, kids tried to burn it down twice. We came up with a simple process that enabled students to identify things they wanted to change about the school and then go do it.
It wasn't what you might call "Big D" design, but we managed to repaint 37 doors, knock down derelict buildings, fix windows, and create a new brand for the school. From that experience, I became committed to finding opportunities for youth to have an impact on the design of the world around them. Since then, nothing has been a simulation.
With support from State Farm, SLA@Beeber now has its own makerspace so that more projects like this can happen, perhaps even during the regular school day. What are some key lessons for making the most of school makerspaces?
Everyone likes to build. And they like to build great stuff. I think one of our flaws as educators is, we don't always set the bar high enough. People know when they make something that's crap! A tactic I use with students is to get them to trust their gut. They can use their eyes, use their bodies in the testing process. Look at it, lean on it, act out a use scenario [with a product]. Does it meet a need? Trust your senses to tell you if it's right.
Expertise matters if you want to create a culture of greatness. If you as a teacher have expert skills, great. If not, find people who have expertise in whatever the project is about. Don't pretend you can do it all. That means recognizing your lack of knowledge, but there's huge joy when you get over that. Then you can approach the project as a co-learner with your students.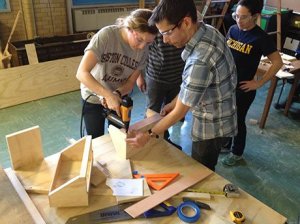 Photo Credit: Alex Gilliam, Public Workshop
Finally, as a fundamental underpinning, make what you do as real as possible. There are wonderful opportunities and needs all around us. Maybe it's missing signs on school restrooms or broken drawer handles on desks. You can use a school makerspace to meet these needs, and also provide really rich learning experiences.
Need More Inspiration?
Check out the Building Hero Project. Each product, designed and fabricated by a young maker from Philadelphia, represents "a nagging problem in everyday life that they [the Building Heroes] would be happier if they could fix," Gilliam says. Visit the Public Workshop projects website to learn more.