Environmental Education
Outdoor and Environmental Education: Resource Roundup
Looking for resources for teaching about the environment, examples of environmental action projects, or ways to take learning outside? You've come to the right place. Explore our list of curated resources for these green approaches to integrated studies.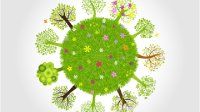 Benefits of Environmental Education
Classroom Activities and Videos
Environmental Action Project Ideas
Getting Outdoors and Learning From Nature
School Gardens and Green Schools
video
5 Steps to a Greener School, by Deborah Moore (2013)

Moore, co-founder of Green Schools Initiative, offers eco-friendly suggestions and resources for a greener, healthier back-to-school.

Act and Inspire: The Dual Roles of Schools in Environmental Protection, by Anne O'Brien (2012)

O'Brien proposes ways schools can lighten their environment footprints. This post from Suzie Boss describes other things schools can do: "Earth Day Challenge: Making Teacher Innovation Sustainable."

Reading, Writing, Recycling: Oregon School Makes the Planet a Better Place, by Sara Bernard (2007)

At Clackamas High School, green ideals infuse the curricula, the building, and, most importantly, the students.
Additional Resources on the Web
Blogs and Articles
Organizations, Tools, and Other Resources