5-Minute Film Festival
Five-Minute Film Festival: Earth Day
A playlist of environmental education videos.
April 20, 2012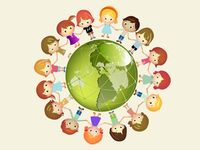 Earth Day has deep roots in education. The first one was in 1970, held as a "national teach-in on the environment." It was groundbreaking in that it brought together people with different beliefs and backgrounds to fight for a single cause. We celebrate on April 22nd, but you can teach your students about sustainability and environmental stewardship all year round. It doesn't take much for kids to feel like they can make a difference for our planet, mobilizing them to be life-long environmentalists! Here's a playlist of videos to get started.
Video Playlist: Earth Day
Watch the player below to see the whole playlist, or view it on YouTube.
Editor's Note: Originally published April 20th, 2012.