Teaching Strategies
Earth Day: Lesson Plans, Reading Lists, and Classroom Ideas
Resources from around the web for incorporating Earth Day into your class.
April 16, 2013
Updated March 28, 2017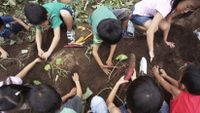 ©Seiya Kawamoto/DigitalVision/Thinkstock
Earth Day is right around the corner. Many educators are preparing lessons that introduce environmental science concepts for students. Are you planning on incorporating Earth Day into your classroom?
The annual event—which started in 1970—provides students with an opportunity to explore a range of subjects, whether science-based investigations, thematic reading, or creative arts projects. To help teachers brainstorm some ways to incorporate Earth Day into the curriculum, we've compiled a list of resources that offer lessons, ideas, tips, and activities that are perfect for Earth Day. There's a bit of everything, including lesson plans, tools, resources, and student reading lists.
Earth Day Lesson Plans
Earth Day Activities
Earth Day Reading For Students
Suggest Reading From Project Learning Tree: Looking for a good book to learn about the environment? You'll find plenty to choose from in this list from Project Learning Tree. Although it was produced in 2014, the books are timeless and informative, and they're grouped by grade level.
Earth Day Reading List: Book Culture's list features great titles for students in grades K–8.
8 Books for Earth Day and Beyond: Writer Alycia Zimmerman provides eight books that are great for K–8.
More From Edutopia