Project-Based Learning (PBL)
Reading, Writing, Recycling: One Oregon School Is Making the Planet a Better Place
At Clackamas High School, green ideals infuse the curricula, the building, and, most importantly, the students.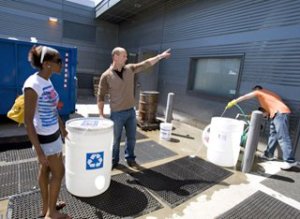 Photo Credit: Robbie McClaran
Clackamas High School Sustainable Systems.
Maybe I'm being a complete optimist here," concedes Thomas Burleson, a student in Andrew Gilford's first-period biology class at Clackamas High School, in Clackamas, Oregon. "But I think we can change the world."
Coming from one student in one little corner of the planet, this statement seems a bit over the top. But if changing the world means thinking globally, acting locally, and taking small steps toward commendable goals, the students and teachers at Clackamas -- one of the first green schools in the nation when their building opened in 2002 -- are on track to make the planet a better place.
Thanks to school facilities that incorporate cutting-edge approaches to energy efficiency and sustainable design, and curricula infused with service-based environmental stewardship, Clackamas aims for a holistic approach to environmental awareness in which students both study and practice ways to live lightly on the land.
The eye-grabbing manifestation of the school's green goals is its building, winner of a prized silver certification from the U.S. Green Building Council and many accolades from such green greats as the National Geographic Society's online magazine The Green Guide. Vast amounts of natural light flood the rooms: Light tubes, skylights, and reflective light shelves, as well as solar panels on the roof, make up a huge part of the building's 44 percent reduction in energy costs.
Other sustainable features include recycled ceiling tiles and plastic toilet partitions, and concrete masonry walls that act as thermal masses to stabilize internal temperatures. Sensors that monitor occupancy, lighting, and carbon dioxide make sure light and air are provided only as needed, natural ventilation is incorporated into all classrooms, and the preservation of the school's surrounding wetlands makes for low-maintenance landscaping.
Clackamas students appreciate the power -- and the aesthetic -- of environmentally enlightened design. In fact, the building's green features are folded into student learning where possible: One classroom houses monitoring software that allows students to observe the school's solar panels and tweak their angles for maximum energy production.
Meanwhile, inside the eco-landmark facility, an emphasis on community connections and service-based learning inform school life and curricula. Since the school opened, this commitment has involved students cleaning up and restoring the local wetlands, creating and maintaining a school-based recycling program, analyzing and reducing their own waste, measuring E. coli levels in local rivers, and sharing their data with the state Department of Agriculture. "Regardless of the facility that we're in, we're trying to build an environmental ethic in these kids," explains teacher Andrew Gilford.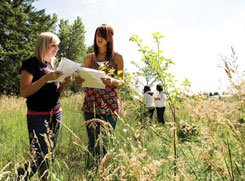 Credit: Robbie McClaran
Field of Dreams: For Clackamas students Jessie Loter (left) and Alex Dolbey, classwork means going outside.
Pollution Solution
Partnerships with organizations outside the classroom -- and a solid roster of field trips -- have been key to the school's goals. "We work with SOLV, the biggest nonprofit in the Northwest," says Rod Shroufe, an environmental science and biology teacher whose multiple green initiatives have had enormous influence at Clackamas. "Their focus is watershed stewardship, with an emphasis on community involvement."
SOLV's Green Team program brings experts into classrooms and puts tools into student hands, helping students and teachers restore local streams by collecting garbage, eradicating nonnative plant species, and planting thousands of trees, among other projects.
"We're trying to get them outside as much as we can, to infuse that sense of stewardship and sense of ownership," says Andrew Gilford, whose biology students also regularly visit the school's surrounding wetlands, which serve as an outdoor learning lab.
This ownership becomes clear when students see their work used to support real change in protecting the community's natural resources. Gilford's classes participate in the Student Watershed Research Project, a Portland State University program that supports environmental education and aggregates high-quality student-collected data for use outside the classroom. "Anytime there's a stream-management plan that goes into place in Oregon," explains Gilford, "there's a state law that says you have to use all available data when you go into making your plan, so data from the SWRP ends up getting pulled up all the time."
As part of their work with the project, Gilford's biology students tested the water quality of a number of local streams last year, and each class participated in a different community-outreach project that gave their lessons real-world impact. Projects included teaming up with local resource-management agencies to teach fourth graders about water conservation, and presenting their findings -- and their plans for watershed cleanup -- at a student conference at Portland State University.
One class also discovered E. coli levels in the water that were, in some areas, thirty times higher than the state's legal threshold. Damage caused by a prominent real estate developer's herd of water buffalo, they found, posed a significant threat to local salmon and steelhead habitats, as well as a popular swimming area. Though the pollution had long been a concern of neighbors and environmental activists, student-collected data helped justify subsequent enforcement on behalf of the state Department of Agriculture and Department of Environmental Quality.
The result, for the students, was a feeling of real accomplishment. Student Lara Mishler says presenting the E. coli data to the Clackamas River Basin Watershed Council "really changed our entire view of it, because for us, it was just numbers, while we were doing it. Once we presented it, and saw the guy's neighbors who were really frustrated with all the pollution, it turned into an actual, personal experience rather than numbers or tests."
Adds student Adam Young, "We're starting a change that's going to eventually make the water around Clackamas County healthier and safer to drink. I would say that we're making a difference, or at least starting. We're being a catalyst."
Credit: Robbie McClaran
Landfill Diversion: A student retrieves recyclable material that was tossed in the garbage.
Trash Talk
Keeping their own house in order is another priority for Clackamas students, who now can take a sustainable-systems class to monitor the school's impact on the environment. "We really needed a full-time group interested in examining our everyday practices," says teacher Rod Shroufe, who launched the course. Students in the class, he says, "do nothing but focus on trying to make it more environmentally sustainable here."
They study their own ecological footprints and investigate sustainable energy, urban development, food production, wastewater treatment, transportation models, and waste disposal. By running their own recycling center at the school, students engage in direct action -- digging through slimy trash bags and hauling mountains of cans and bottles -- that further engages them in the school and the community.
"They get pissed off at kids who are throwing recyclable things away," says Shroufe. "There's a big learning piece just by rooting through this on a daily basis." To improve the habits of their fellow students, the sustainable-systems kids created goals for the student body and gave ten-minute presentations in all classes on campus. The move, along with other outreach efforts, yielded big results: Compared to previous years, the amount of recyclables the students were able to collect soared. "There's peer pressure to recycle," Clackamas assistant principal and athletic director Jeff Erdman says with a laugh.
And what starts at school tends to travel with the students. Rachael Doornbos, a sustainable-systems student, went from slogging through trash at school to reading the riot act at home. "We had to do trash audits, going through the trash and seeing how many things people don't recycle," she says. Now, she adds, "we recycle at my house and I yell at everyone in my family who doesn't."
Student Roland Fornataro convinced his family to switch to green energy through the local utility company; classmate Alex Young reports that, after his class sent letters about global warming to President George W. Bush, he and his friends "went home and talked to our parents about it, and it became more of an issue. We started to acknowledge the fact that something was wrong."
Says Kourtney Jacobs, "The stereotype of high school students is that we're careless, that we don't care about things like the environment. When we prove that we do, we can make a difference."
Though "it's a struggle in any institution to build a culture of buy-in," says teacher Andrew Gilford, there are plans for more environmental projects at Clackamas. Food-waste composting takes place as part of a vermiculture project in Rod Shroufe's sustainable-systems class, but next year the school will get self-composting units called Earth Tubs (each complete with an electric motor, an aerating system, and a biofilter).
Gilford and Shroufe are also working on getting solar-panel-monitoring software installed in more classrooms, and Shroufe plans to initiate a horticulture program that will include service learning at local greenhouses. "We want to get some stuff going so that kids start seeing where their food supply comes from" he says. "Just as planting trees in your own neighborhood has a lot of meaning, so does producing your own food."
When funds for the school's recycling effort began to dwindle, Shroufe reached out beyond the school, writing and acquiring grants from local organizations, such as the Clackamas County Recycling Partnership. He now is able to fund the sustainable-systems class projects and other eco-friendly innovations at the school almost entirely through refund money from ink cartridges and other recyclable items. "Between the cartridges and the can money, I quadrupled the science budget for my department this year," he says.
Just by struggling to keep things afloat, and ensuring consistency in the school's dedication to environmental sustainability, teachers at the school accomplish a primary goal. "Part of our task as educators is to prepare students to be contributors to society," says Alyson Brant, associate director of secondary programs for the school district. Adds student Thomas Burleson, "All big changes start with a little step. We're making that little step."
Sara Bernard is a former staff writer and multimedia producer for Edutopia.