Curriculum Planning
5-Minute Film Festival: Celebrate World Water Day
How do you teach your students about water? Here's a list of videos to make learning about environmental issues, water conservation, and the biology of water fun.
April 17, 2012
Updated March 20, 2015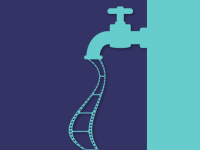 World Water Day is March 22nd. We're mostly made of it -- about 60% of the human body is water. We need a lot of it -- you can't survive more than a week without it. And we've got a finite supply -- only a fraction of the water on our planet is drinkable. Yet many of us take it for granted.
There are so many ways to learn about water -- from global environmental issues around water cleanliness and scarcity, to the basic biological properties of water, to water conservation ideas and tips. How do you teach your students about this precious resource? Check out the playlist below for some fun ways to get your kids thinking about water -- today and every day.
Video Playlist: Water, Water Everywhere
Watch the first video below, or watch the whole playlist on YouTube.
video
GOOD: Water (02:31)

A great basic video to show just how important water is to our health and survival, from the good people at... well... GOOD.

Water is Our World (01:08)

A nice reminder from UN Water -- everything we do depends on water, from our health, to our cities, to our parks! 

Water - Liquid Awesome: Crash Course Biology #2 (11:17)

The basic biological properties of water, explained by the awesome Hank Green of VlogBrothers fame. From the CrashCourse channel, which regularly publishes videos for history, literature, and the sciences.

Sesame Street: Wasting Water (01:15)

Don't be a wasteroo! A vintage animation clip from Sesame Street about conservation.

The Story of Bottled Water (2010) (08:04)

Don't miss this eye-opening animation from the brilliant folks at Story of Stuff about the truth behind bottled water. You may never buy a plastic bottle of water again!

Water Changes Everything. (03:23)

Access to clean drinking water makes a huge difference for people in developing countries, as explained by charity: water, an org that brings safe water to the people who need it most.

Bill Nye the Science Guy - "Water Cycle Jump" (01:31)

Excessively cheesy, but fun -- this parody of a pop song was re-written to explain the water cycle by the always-fabulous Bill Nye.

WATER Fun Facts (04:21)

Michael Stevens, creator of the incredibly popular science YouTube channel Vsauce, enlightens us on why water makes it hard to make an "Earth Sandwich," and how hydrophobic materials work.

Water (1953 Archival Film) (09:50)

I'm showing my soft spot for archival filmstrips with this 1953 footage about water. Love that somewhat nebbish narrator and Disney-like music.

Wetland Watchers: Kids Care for Their Environment (08:09)

See a conservation-minded service learning project in action in Louisiana -- this one is from the Edutopia archives, but the Wetland Watchers project is still going strong!

Where We Get Our Fresh Water -- Christiana Z. Peppard (03:47)

A fantastic animated TED-Ed video that explains where the water we use comes from. See part two here.

Tara Darby Talks Water Conservation With Kids (01:54)

Local news story showing kids at a local elementary school pledging to save 20 gallons of water a month, with helpful tips for kids on saving water.
More Resources for Teaching About Water and Conservation
You can also find a variety of water lesson plans and educational resources around water all over the Web. Or get your class involved in a student-led campaign to bring clean water to schools in developing nations. I've listed just a few links below to get you started.