College Readiness
Resources and Downloads to Support College Readiness
Discover resources and information — including downloads from schools — related to developing the awareness, knowledge, skills, and attitudes that will prepare students to enroll and succeed in college.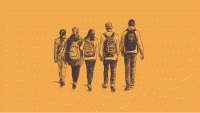 Preparing Students Socially and Emotionally
Building 21st Century Skills Through Deeper Learning
Improving College Readiness Through PBL
Increasing College Access
Helping Students Select and Apply to Colleges
Facilitating the Transition Beyond High School
Downloads and Examples From Schools That Work
Edutopia's flagship series highlights practices and case studies from K-12 schools and districts that are improving the way students learn. Below, dive into real-world examples and practical downloads from schools that are preparing their students for college success.
Learn how Urban Prep Charter Academy, Englewood Campus in Chicago, Illinois, ensures that all graduates are accepted to a four-year college or university. See how they conduct pride advisory classes to help students develop socially and emotionally and build college preparedness through all four years of high school. Then download information about their advisory curriculum and one of their college-readiness tools:
College Planning Worksheet -- Use this worksheet to understand how students identify which colleges they'd like to attend.
Pride Curriculum Map -- Learn more about the entire Pride Curriculum, which covers topics ranging from study skills to racism and financial literacy.
Sophomore Pride Curriculum -- Take a look at the Pride Curriculum for sophomores, which covers topics such as identity development and responsible decision making.
video
Socratic Seminar Connectors: Download a one-page handout describing connector statements that students can use within the context of Socratic seminar discussions.
Socratic Seminar Roles: Download a handout with specifics about possible roles and assignments of outer-circle members during Socratic seminars.
Evaluating Seminar Statements: Download a handout that gives students practice evaluating seminar statements in advance of Socratic seminars and a reference list of connectors to help them formulate responses.