Game-Based Learning
Gaming the College Admissions Process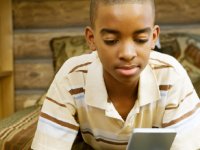 Getting into college is game-like. The path to higher education is an arc of challenges, obstacles, and consequences. To "win," students need to market themselves as attractive applicants. Being active in extracurricular activities and community service as well as attaining high grades and solid entrance exam scores can accomplish this. The process is also not equitable -- people who have more support from home can have a clearer advantage. The rising cost of college these days can have serious financial implications, too. Run this systems thinking simulation to see how college loans are repaid.
As this past school year drew to a close, I wondered what game-based learning applications were available to making the path less scary, because choosing the correct path while still in high school is daunting! What I found was an engaging array of tools. Kaplan, the test prep service, offers an adaptive subscription-based tool called Grockit. It applies game mechanics to make rote learning less like a chore. For vocabulary review, I tried Word Dynamo, the word-building review game from Dictionary.com that provides daily challenges.
FutureBound
FutureBound is a suite of games to help prepare students for higher education. The project was collaboratively created between the University of Southern California's (USC) Game and Innovation Lab and its School of Education. Professor Zoe Corwin led the project, along with Tracy Fullerton, the USC Games Director. (For more on Fullerton's amazing accomplishments, check out this link!) I spoke to both Corwin and Fullerton about the FutureBound initiative.
There are four games in the series: FutureBound, Application Crunch, Mission: Admission, and Graduate Strike Force. The idea stemmed from a perceived lack of college counselling, especially in underserved areas. The team was interested in a solution that students could find engaging and that would speak their own language. The games help students in the process of learning how to build and present themselves in the best way. For example, is it beneficial to join a lot of clubs and be spread thin or to be a leader in just a few clubs? What are the differences between a technical school and a liberal arts college? The FutureBound games are the ultimate role-playing adventure.
In FutureBound, the player is a middle school student haunted by a monster (middle school is the intended audience). The monster is fueled by fears and doubts. Winning combats against monsters levels up the player. As a result, more desirable careers become unlocked, like becoming a doctor. The game is really about creating aspirations in an adventure game format, the core genre for that age group.
Two FutureBound games are geared to the college application process: Application Crunch, a paper-based card game; and Mission: Admission, a social game playable on Facebook.
The final game in the series, Graduate Strike Force, is intended for a high school audience. In this adventure, the player evaluates colleges, including financial aid packages. Students must decide if the future opportunity is worth the effort of their invested time and energy. The goal is to become part of an elite monster-fighting force. Missions involve choosing schools, selecting financial aid packages, and seeing them through. For all FutureBound games, go to futureboundgames.com. For an introduction, check out this video.
Play2Prep
Test review can be a chore. It lends itself to rote memorization. What if it was a game in which players could compete with friends? Play2Prep, a new SAT and ACT test review app available for iOS and Android, gamifies test review. Millions of high school students go through the process, so why do it alone? Play2Prep posts five free SAT and five free ACT test prep questions a day. (It is one of the only apps for both standardized entrance exams.) The app developers partnered with educational institutions, including McGraw Hill Education, to present daily questions. Players earn credits by answering questions correctly, and those credits can purchase power-ups. Correct answers unlock hints, narrow answer options, and increase available time depending on question type. (Passage-based reading obviously requires more time.)
Kenny Nova, the founder of Play2Prep, told me that the "special sauce is the game itself -- the ability to play against friends." It is turn-based and one-on-one. The simple-to-use interface enables students to find other players online in the Play2Prep community. It can also be connected to Facebook. To play, you prepare questions to "give" to your opponent. You play for points, making it a zero-sum game (winner take all, like rock-paper-scissors). There is an adaptive learning tool to predict the next best question to "throw."
Play2Prep has a skills-based dashboard, which is private to the user -- after all, who would want to publish that they need more work on trigonometry? Play2Prep can be used either exclusively or to complement other test prep materials.
Free and low-cost games relating to college admission open up opportunities to low-income and first-generation applicants. This was also the purpose of last year's College Knowledge Challenge. Games like FutureBound and Play2Prep can help level the playing field around the high cost of test prep. Today's game-based learners can become tomorrow's leaders!