Critical Thinking
Resources and Downloads for Teaching Critical Thinking
Educators from the Bay Area's KIPP King Collegiate High School and the KIPP network have provided these resources for you to use in your own school.
July 11, 2011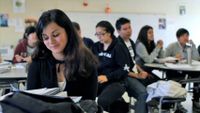 Credit: Zachary Fink
Using resources and tools like the ones below, educators at KIPP King Collegiate High School focus on honing critical thinking skills across all subjects.
Tips for downloading: PDF files can be viewed on a wide variety of platforms -- both as a browser plug-in or a stand-alone application -- with Adobe's free Acrobat Reader program. Click here to download the latest version of Adobe Reader.
Click on any title link below to view or download that file.
Lesson Plans & Rubrics
Tools for Critical Thinking
Culture at KIPP
School Snapshot
Grades 9-12 | San Lorenzo, CA
Enrollment
460 | Charter, Suburban
Per Pupil Expenditures
$9,872 School
•

$8,096 District
•

$8,452 State
Free / Reduced Lunch
69%
DEMOGRAPHICS:
40% Hispanic
30% Asian/Pacific Islander
19% Black
5% White
5% Other
20% English-language learners,
 2% Individualized education programs