College Readiness
Helpful Resources to Share With High School Graduates
Resources you can share with soon-to-be graduates to help them start planning for their college or career path.
May 14, 2014
Updated June 6, 2016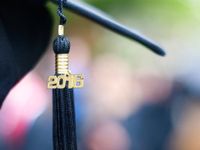 Photo credit: ©adamkaz/iStock.com
The last few weeks of high school are an exciting time for students. It's a whirlwind of graduation parties and festivities, topped by the graduation ceremony itself. But it can also be overwhelming.
Whatever path a student is considering, college or career, the summer after high school is the perfect time to start planning for the road ahead. I've gathered some resources you can share with students that are fun, easy-to-use and offer guidance for what lies ahead. They're organized by topic.