Arts Integration
Arts Integration: Resource Roundup
All points of arts integration — from benefits and implementation to linking the arts with core curriculum — are covered in this roundup of useful Edutopia blog posts, articles, and videos.
April 16, 2013
Updated October 18, 2016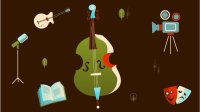 Benefits of Arts Integration
Linking Arts and Core Curriculum
Fostering Creativity
STEAM and Maker Education
Downloads and Examples From Schools That Work
Edutopia's flagship series highlights practices and case studies from K-12 schools and districts that are improving the way students learn. Below, find featured downloads, and dive into real-world examples of arts integration in practice.
Learn about School 21 -- a public, urban school in London, U.K. -- and how educators there bring cross-curricular, arts-infused project-based learning into the classroom. Find out more by reading "How to Infuse the Arts Into Core Curriculum (and Why It Matters), and download a project planning checklist for more insight into their process:
video
Discover how educators at Symonds Elementary School use bookmaking school-wide to to blend academics and art in ways that excite and engage students, build school community, and make learning feel more personalized and fun.
Find out how students at Normal Park Museum Magnet School create unique "travel journals" to explore themes of science and social studies units. Then check out a sample curriculum map:
Normal Park Curriculum Map -- Download a yearlong curriculum map that shows the different thematic units studied in social studies and science throughout the K-8 grade levels.
Learn how educators at Glenview Elementary School in Oakland, California use partnerships with local arts organizations to provide much-needed resources, while giving students new creative outlets and developing critical thinking and collaboration skills.
Critical thinking, risk taking, and collaboration -- along with academics and discipline -- are just some of the areas where Bates Middle School reported big improvements after integrating the arts across all subject areas. Here are a few of the resources used at Bates to plan for and reflect upon arts-integrated lessons: