Project-Based Learning (PBL)
10-Minute Plays: Performing Arts in the History Classroom
By distilling research, writing, and acting into ten-minute plays for an authentic audience, students turn a U.S. history unit into a personally relevant experience.
The sophomores in my U.S. history class are not newbies to project-based learning, so I needed to earn their attention. As soon as I told them they were going to write their own ten-minute plays and perform them for their parents, I got it.
"That's ten pages of writing!" they discovered after Googling.
I assure you that directing five plays simultaneously was outside my professional training -- my acting background reached its zenith in an eighth-grade rendition of The Wizard of Oz. However, any teacher who loves the arts can pull this project off.
Furthermore, the content is interchangeable. I did this project on the American Revolution, but you could substitute historical figures from any time period or country.
Baby Steps to Begin
1. Check Out Examples
How do you get students hooked and excited for your vision of the final product? Showing examples of other students' work builds the concept of what they're aiming for and sets a standard for quality. I started by having students watch videos from National History Day Student Project Examples and writing down what makes a quality performance.
2. General History
Students took notes on a PowerPoint presentation about the American Revolution using the note-taking skills we learned from Doodle Revolution about the power of doodling pictures into our notes to retain information. You could lecture and give a quiz at this point if you are skeptical about the kids retaining the basic information. However, I felt that the Q and A section after the performances showed the depth of their knowledge better than any test.
3. Students Choose Their Topics
I made a list of all the key players from the American Revolution and let students choose whom they wanted to research. This way I could guarantee that they would know one historical personality in great depth and get the broad knowledge of the other key personalities by watching each other's plays (over and over) during rehearsals.
The Heart of the Project
4. Research Research Research
Students needed about four days of research time in the library to compile three primary and four secondary sources. They used free easybib.com accounts to compile their sources in MLA format.
5. Writing the Research Paper
Some think a two-page argumentative research paper boring, but I don't care. Skipping this step would be a disservice to students who will need to write a lot of thesis statements in college. We drafted, got parent feedback, polished thesis statements, and harped on the importance of outlines.
6. Writing the Draft
I actually assigned the ten-page draft of the plays over a three-day weekend, and I couldn't believe how much the students wrote. Some wrote their ten pages single spaced! The high stakes had an impact. Many realized partway into writing these drafts that they didn't know enough about the language of the late 1700s to write in a proper voice and watched documentaries on their own time to get up to speed. Several others revisited the databases we used in class seeking additional details of clothing and furniture to make their plays more believable.
7. Make Groups and Combine Scripts
Once I saw from the individual drafts that students really knew their characters, I put them in groups (women of the revolution, generals, sons of liberty, famous writers of the period, etc.), and they combined their scripts into just ten pages in a Google Doc. This forced them to read one another's original plays and learn the characters well enough to create scenarios where the four of them could have feasibly come together. This was also when groups borrowed props and costumes from the theater department.
Show Time and Reflection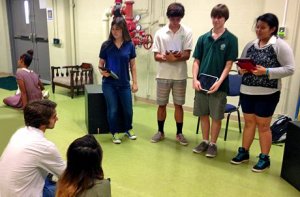 Photo Credit: Laura Davis
Our MPX sophomores rehearsing with feedback from juniors and seniors in an advanced acting class.
8. Rehearsal with Advanced Acting Class
The students in my class agreed that the most valuable part of the process was the three rehearsal classes when we invited Mr. Wat's advanced acting class to watch their performances and provide feedback. The acting students rose to the occasion, training my students in basic acting technique and pausing the performances to make corrections.
9. Performance
There's nothing like an authentic audience to encourage students to memorize their lines! They had them down cold. I would recommend assigning students to create the program (PDF) and another to film the performances.
10. Write a Reflection
Here's an example of a reflection from student Hooper LeBlanc:
Teacher Reflection
Although meeting with the advanced acting class focused on engaging an audience, a stellar performance was not this project's objective. When the students demonstrated through their plays that they knew not only who the important characters of the American Revolution were, but also why the revolution is worth remembering today as the founding of our democracy, I was convinced the project had been a success.