STEM
Resources for STEAM
Discover information, examples, and tools related to incorporating aspects of the arts, design, and the humanities into STEM-based school activities.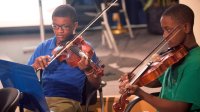 The Benefits of STEAM
Project-Based Learning and STEAM
STEAM-Powered Projects and Programs
video
Featured STEAM Case Studies: Explore case studies of STEAM in practice. (STEM to STEAM/Rhode Island School of Design)
Growing From STEM to STEAM: Read about a STEAM experiment in one school district, and find several tips for school districts on how to get started with having the arts and sciences work together in STEAM. (ArtsEdge at the Kennedy Center)
Q&A with David Cole: Why We Need the "A" in STEAM: Learn about a STEAM curriculum that combines traditional STEM skills with artistic practices. (Graphite, 2014)
STEAM Activity and Project Ideas
5 Reasons Why Origami Improves Students' Skills: Explore ways to use origami, the ancient art of paper folding, as a STEAM engine for teaching geometry, thinking skills, fractions, problem solving, and fun science. (Edutopia, 2015)
Over 25 STEAM Links Filled With Resources and Information: Find articles, project ideas, programs, and lesson plans to help inform STEAM curriculum planning. (21st Century Educational Technology and Learning, 2014)
24 Apps, Games, and Websites Teachers are Using in STEAM Classrooms: Browse a teacher-sourced list of teaching tools for various grade levels and subjects. (Graphite, 2014)
Examples From Schools That Work
Edutopia's flagship series highlights practices and case studies from K-12 schools and districts that are improving the way students learn. Below, dive into a real-world example of STEAM in practice.
See how educators at Charles R. Drew Charter School in Atlanta, Georgia, integrate PBL and STEAM to empower third grade students to take ownership of their education as they prepare for the next Snowpocalypse.
video