Project-Based Learning (PBL)
Citizen Schools: Picking Up Performance When the School Day Ends
After-school mentors can keep middle school kids from dropping out.
Citizen Schools is a national network of after-school programs that connects students with adult mentors, develops school-community ties, and uses project-learning curricula.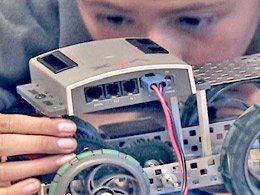 Credit: Edutopia
Robotics at Work: A student tests his skill in one of many hands-on-learning projects.
Here, we provide material from Citizen Schools for creating similar after-school programs and training mentors. The material includes:
You can use the materials provided here, or learn more about partnering with Citizen Schools on the Citizen Schools Web site. The organization runs programs in California, Massachusetts, New Jersey, New Mexico, New York, North Carolina, and Texas.
Who This Material Is Best For
These resources are helpful for
mentors or new teachers who need guidance.
administrators who want to initiate a similar model.
middle schools, but much of it is adaptable to other grade levels.
How to Use the Material
The materials (lessons, videos and tips, articles, and contacts) can be viewed in any order. There is no need to do the lessons sequentially.
The seven lessons and their supplementary materials feature key parts of the mentor preparatory course -- including how to plan a lesson, manage a classroom, and assess students. Follow the lessons to learn more about becoming an adult mentor or training one. Classroom projects and lesson plans can be developed over a three- to six-week cycle or in one full-day session.
What Citizen Schools Is About, and Why We Picked It
Citizen Schools has successfully built a scalable model that connects students to community professionals through real-work experiences and apprenticeships. Through its mentor preparatory course, Citizen Schools teaches adult volunteers how to become strong mentors to students to help reduce the dropout risk.
These programs focus on middle school students because research has shown that these students are the most susceptible to dropping out of school. Relating to youth through enriched activities during the "golden hours" -- the hours after the school day ends -- helps curtail negative behavior that often occurs during this crucial time. Adult mentors are an important component of full-time-learning programs as they become powerful role models to students, keeping youth on a motivated track for academic achievement.
Citizen Schools records show improved attendance, grades, and career planning for youth involved in its programs. The impact can be looked at in three ways: through a rigorous independent evaluation, through internal analysis of the program's effectiveness, and by the excellent work apprentices create every semester -- work that is called WOW!.
What These Materials Are Designed to Teach
These resources will help students develop
leadership, teamwork, technology, and oral-communication skills.
proficiency in subject matter related to the expertise of the mentor, such as art, music, or science.
confidence in working with other students, as well as adults.