Project-Based Learning (PBL)
Reforming the School Day: The Evolution of Full-Time-Learning Programs
Schools and communities across the country have joined forces to develop enriched after-school and out-of-class programs — something we like to call full-time learning.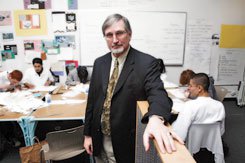 Credit: Edutopia.org
Will Fowler is the instructional leader for San Francisco's Build SF after-school program.
"The structure of the day for American children and youth is more than timeworn. It's obsolete." That bold statement introduces "A New Day for Learning," a 2007 report from the Time, Learning, and Afterschool Task Force, funded by the Charles Stewart Mott Foundation. Citing several factors that make learning more complex -- increased diversity in our public school population, the inequity of out-of-school opportunities, and the increased role of technology in our lives -- the report argues that many public schools are trying to respond by "overloading an outmoded structure." "A New Day for Learning" recommends a total rethinking of the learning day, including a commitment to full-time learning, also known as expanded learning opportunities (ELO).
ELO encapsulates a variety of programs, from after-school and extended-day offerings that can operate on or off campus, to out-of-school programs that involve students in hands-on classes, mentorships, and fieldwork during the school day.
Make It Relevant
One element is key to all successful full-time learning programs: relevance to kids. "Kids shop with their feet," says Hillary Salmons, executive director of Rhode Island's (http://www.mypasa.org/) Providence After School Alliance (PASA). "If they can't relate to it, that word is on the street." To engage kids, many programs aim to look and feel as different from traditional schools as possible.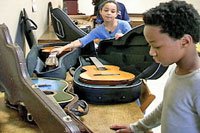 Credit: Edutopia.org
The Providence, Rhode Island, after-hours program engages kids in learning -- and fun.
PASA's AfterZone program, for example, taps into middle school students' interests in music, dance, sports, and adventure by conducting field trips or presenting engaging guests. In the same vein, Build SF teaches students engineering and architecture skills in a studio-like environment in downtown San Francisco. "I think you have to tie what you're doing with academics to some sort of real-world situation," says Build SF program director Will Fowler. "The more real the better." Having kids from different schools and neighborhoods do group projects together, says Fowler, "breaks down barriers." And giving them training and opportunities to teach each other, and their teachers, builds students' capacities as leaders.
Rocio Abundis-Rodriguez, who serves as both California's Region 5 lead for after- school programs and executive director of California After School Technical Assistance, advocates getting students involved in the design and delivery of their program, so what's being offered is of interest to them. That way, she says, they'll gather up their peers to participate.
Build a Structure
Like great classroom teaching, the most successful full-time learning programs have structure. "A well-run program has a well-conceived plan, curriculum, and prepared materials that are developmentally or sequentially planned," says PASA's Salmons. In the Washington-based NatureMapping Program, staff and teachers plan a whole year ahead, identifying not only program dates but also times when workshops or additional support will be needed. In Providence, where students have a 30 percent mobility rate between schools, all of PASA's AfterZone programs look and feel the same, providing a constant in kids' lives.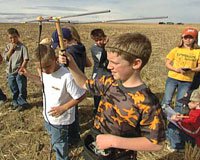 Credit: Edutopia.org
Students in Washington State track horny toads through the nationwide NatureMapping program.
Salmons sees the urban kids in Providence, whose lives she says can be chaotic, latch onto the predictability they find at the AfterZone: ice breakers before preplanned activities, transitions before going into programs. In NatureMapping, journaling on every trip centers students and develops their skills as nature observers.
NatureMapping's director Karen Dvornich noticed how new environments overwhelm students, who can forget how to use tools they were introduced to in the classroom. She now favors having kids repeatedly practice using equipment, such as GPS units, at school so they can apply those skills in the field. She's also a fan of training parents as chaperones for off-campus trips, so that instead of being passive bystanders, they can help with students' learning.
Get Your Ducks in a Row
The most significant challenges for full-time learning may well be with the big-picture elements: funding, staffing, and vision. After-school specialist Abundis-Rodriguez gives training and support to state-funded after-school programs, but she says programs need diverse funding sources. "The most successful ones don't rely on state funding alone; they have private funds to do more creative programming and expand the staff." She recommends that if programs apply for state funding, they develop a plan to match those dollars with in-kind donations, foundation funding, and grants.
Build SF's Fowler knows of promising programs that had to shut down prematurely because they'd raised money for only a portion of the program year. Build SF, he says, had funding and community support in place before it started, and then reached out to fund the program's growth.
Finding -- and retaining -- quality staff also concerns Abundis-Rodriguez. "There's such an expansion of after-school programs that there's a lot of competition for staff." Because many after-school employees see their jobs as stepping-stones and not as career possibilities, Abundis-Rodriguez worries that even the best programs invest much time and money in training and retraining when staff turn over. Some programs have partnerships with local community and state colleges in which students get internships and programs get temporary staff, but Abundis-Rodriguez thinks even more intentional efforts with colleges should exist to help develop the workforce.
Evaluate Yourself
Abundis-Rodriguez sees many programs doing bare-bones outcomes assessment -- just enough for continued funding. But the best programs, she says, identify their desired outcomes and have those goals drive all aspects of their program -- student recruitment, program development, staff training -- and measure themselves against those goals.
Attendance rates at programs and at school are common benchmarks. Some programs look at grades and test scores to monitor student progress, but Abundis-Rodriguez believes too many outside variables exist to make those criteria really useful. Instead, she favors assessments -- such as Santa Clara Valley YMCA Cornerstone program's use of the 40 Developmental Assets, designed by the Search Institute -- that measure students' personal growth.
Along with attendance, testing, GPA checks, and tracking their students post-high school, Build SF uses rubrics for student projects, develops peer assessments, and asks mentors to fill out formal exit surveys on students, based on skills developed by the Partnership for 21st Century Learning, an acclaimed advocacy group dedicated to infusing twenty-first-century skills into education through collaborative community efforts. In a partnership with the High/SCOPE Educational Research Foundation, PASA adapted the Rhode Island Program Quality Assessment Tool, which program providers use to assess themselves on specific standards and indicators. PASA's programs also have access to a citywide data-sharing system that tracks participants. NatureMapping developed pre- and post-tests around field study of the environment, and had an outside evaluator -- in this case, a graduate student -- evaluate its program, assessing multiple grade levels and schools.
Looking at what makes full-time learning programs successful can lead us to that new day for learning, so all kids can have access to the people and programs they need to be successful. With programs responding to the specific needs of students in their communities, Build SF's Fowler says, "it's kind of the American way -- here's this need, and people are finding ways to meet it. I think we'll see more of that rather than less."
Lisa Morehouse taught secondary English for twelve years in San Francisco and rural Georgia. She is now a public radio journalist and education consultant.