Inquiry-Based Learning
Preparing a Classroom Culture for Deeper Learning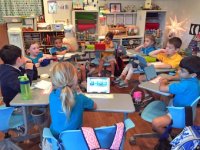 After reading an excerpt from the Declaration of Independence, students form a circle to engage in conversation about liberty and the pursuit of happiness. The inquiry circle begins with two questions posed by the teacher:
What is more important, liberty or the pursuit of happiness?
Are liberty and the pursuit of happiness inalienable rights?
To begin, some students argue that liberty and the pursuit of happiness are only open to the people who follow rules within a society. Others argue that while they agree to the rule of law, the argument might have exceptions. One student asks, "Is it morally right to take away freedoms for all crimes committed?" Another student responds, "Yes, what if a crime is committed to save someone's life?"
This leads to a conversation about the nature of happiness. Students argue that happiness lacks a universal definition. One student shares, "Collecting baseball cards makes me happy, but not everyone likes this hobby." They also question that laws might limit the pursuit of happiness for some. A girl explains, "My family and I like to go to the beach on the weekends, but we would be happier if we could bring our dog."
While the conversation was rich and rooted in deeper learning and understanding, the inquiry-based discussion did not end within the classroom. At the request of the students and with the facilitation of the teacher, the discussion extended into a Twitter chat that spanned several days.
Deeper student learning can evolve over time facilitated by an educator who is skilled in the art of thinking within a carefully crafted environment. I believe this can occur in all classrooms. To achieve deeper student learning, I suggest beginning with five cultural transitions.
1. Engage in Inquiry-Based Professional Development
The development of formal thinking and logical reasoning skills is necessary to achieving deeper learning. Educators should first immerse themselves in professional development focused on building inquiry skills, possibly within the field of philosophy. Learning to think deeply is a prerequisite to planning lessons with flexibility and creativity, both of which are critical aspects to achieving deeper student learning.
Prior to students becoming skilled at inquiry-based discussions, teachers must verbally model thinking skills for students by thinking aloud and making unlikely connections. Deeper learning necessitates deeper teaching.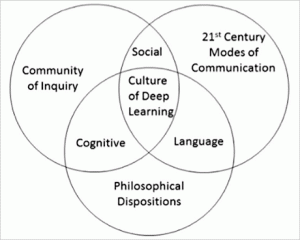 Photo Credit: Elizabeth A. Garcia
2. Formulate a Classroom Community of Inquiry
Establishing a community of inquiry involves students learning to respect the ideas of others and share their thoughts freely. They should not be afraid of making mistakes. Begin by creating a "community ball," or inside-out yarn ball, as a tool to facilitate respectful conversation. Students should form a circle and share information about themselves while wrapping yarn around a cardboard rectangle. After the last student shares information about him- or herself while wrapping the cardboard form, tie one side of the yarn loop and cut the opposite side. Each strand is representative of the group's stories, serving as a representation of each individual's importance to the group. Educators must teach students to listen to the ideas of others, giving adequate time to hear their thoughts and internalize the information. The community ball helps to facilitate time for inquiry, reflection, and respect for the speaker during classroom discussions.
3. Start Simply and Exercise the Brain Daily
Learning how to think is similar to an artist perfecting his or her craft -- it evolves over time with adequate practice. Deep learning cannot be seen as a special classroom activity, but rather as a replacement to surface-level instruction. As an introduction to thinking and inquiry skills, I recommend the use of children's picture books or reproductions of visual art. The simple lessons and morals within children's stories and interpretations of art allow for discussions that are focused on building thinking skills. Beginning with a complex text would be counterintuitive to the learning goal, which should be primarily aimed at developing a thinking community. Over time, students will build the necessary skills to analyze more complex documents, text, and academic vocabulary, raising performance with the Common Core ELA standards.
4. Make Learning Relevant
Have students retell or reimagine learning content with a modern-day twist. Make learning relevant, meaningful, and tied to the generational characteristics of your students. When reviewing a historical document, have students rewrite the document with current jargon, allowing for a deeper understanding of its meaning. This also develops creative ways of thinking about the information, so that they can make connections and think outside of the box.
5. Integrate Technological Resources
While human beings have communicated through stories, symbols, writing, and discussions throughout history, these modes of communication are far from the only options available to the modern-day educator. Teachers have access to exciting technological options that can be used to promote deeper learning. Twitter chats, blogs, or group text messaging can extend deep and enriching discussions by allowing for a period of reflection. The newly-learned concepts can be more deeply understood by analyzing, comparing, and contrasting the information over time. Technological tools provide an opportunity for extended thinking.
Establishing a culture of inquiry is a necessary prerequisite to achieving deeper student learning. The art of thinking flourishes within an emotionally, intellectually and physically safe learning environment that is carefully constructed by the classroom teacher. The development of philosophical dispositions must be fostered within both students and educators, because deep thinking is supported by deep teaching.