Media Literacy
Social Media in Education: Resource Toolkit
This collection of blogs, articles, and videos aims to help educators deploy social-media tools to develop professionally, connect with parents and communities, and engage students in 21st-century learning.
February 12, 2013
Updated February 19, 2015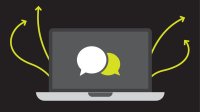 Creating Social Media Guidelines
Student Engagement With Social Media
Tweeting the Read-Aloud: Engaging and Motivating Readers, by Monica Burns (2014)

Engage young readers by showing them the value of composing and sending tweets to authors whose books they've enjoyed during a read-aloud.

Frictionless Formative Assessment With Social Media, by Paige Alfonzo (2014)

Alfonzo, a reference librarian, cites EMS (experience sampling study) as a foundation for using social media as a formative-assessment tool for students who already live in that world.

Using Social Media to Teach Visual Literacy in the 21st-Century Classroom, by Dave Guymon (2014)

Guymon, an online middle school teacher, defines visual literacy and proposes using three popular social-media modes -- Instagram, Emoji, and memes -- to enhance students' academic fluency.

Big Thinkers: Mimi Ito on Learning in Social Media Spaces (2013)

Ito, an expert in young people's use of digital media, shares her research on informal learning in online communities, where students can build technology skills, learn media literacy, and create and share their work.
video
Blogging in the 21st-Century Classroom, by Michelle Lampinen (2013)

English teacher Lampinen shows how weekly blogging assignments can transform a high school classroom into a community of enthusiastic writers.

How to Co-opt Students' Favorite Social-Media Tools, by Todd Finley (2011)

Finley defines social media as the new frontier, and he notes that adolescents are the early frontierspersons. Included in this blog are ten tips for adding social-media tools into the classroom.
Selecting Social-Media Tools
Home, School, and Community Connections
Social Media for Professional Development
Educators create their own professional-development opportunities with the many resources available via social media, bringing their admins on board with this new model. You may also want to check out the following related articles and posts:
Digital Citizenship and Online Safety
Additional Resources on the Web