Education Trends
Do-It-Yourself Virtual Professional Development: Taking Ownership of Your Learning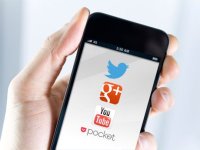 With so many great resources on the web, teachers are realizing that they can learn just as much (if not more!) from their personal learning network (PLN) as they can from traditional professional development (PD). Educators are connecting with like-minded individuals across the globe, reading about best practices and new trends in education, and sharing their experiences with friends and colleagues. Through social media, popular blogs and webinars, teachers are taking ownership of their learning and finding PD opportunities that weren't possible a decade ago.
Try using these strategies to make your PLN work for you, and take control of your own professional development!
Follow Along on Twitter
Twitter is one of my favorite places to gather information on education trends. You can easily access Twitter from a smartphone or tablet as well as a computer, making it perfect for reading while waiting in line at the supermarket or channel surfing. Start off by following educators with similar interests and organizations that share ideas you can use in your classroom. You can search by hashtags like #mlearning or #STEM to find tweets in an area you are interested in learning more about.
Create Twitter Lists
As you jump into Twitter, whether you follow superstars, education leaders or friends, that list of people is sure to grow quickly. If you become overwhelmed because the volume is getting just too big, divide them into lists to make navigating your Twitter feed a little easier. This way, you have one spot dedicated to colleagues in your school or local community, another for people you've heard speak at a conference, and a space just for following along with current events. My go-to list is titled "ADEs and EdTech Leaders," which I created to list some of my favorite tweeters.
Join a Twitter Chat
There is so much to learn from other educators, and I am a huge fan of Twitter chats. In these chats, you will follow a hashtag at a particular time and see questions posted by moderators. Anyone can respond by adding the hashtag to his or her tweet. You can simply read through tweets if you aren't ready to participate, but once you do join in and start sharing your own experiences and ideas, you'll realize just how much you can learn. Here's a list of a few different Twitter chats with extra tips.
Watch a Webinar
Lots of organizations now offer live and on-demand webinars for busy teachers. Instead of sitting through a full-day professional development seminar, you can stream a live webinar to your computer and even ask questions of the presenter. Many webinars offer a back channel so that participants can share ideas and strategies with other attendees. If you're not able to make a scheduled webinar, there are some that can be accessed on demand, allowing teachers to watch at a time that is convenient for them. SimpleK12 has free weekend webinar events where teachers can learn about best practices.
Video Tutorials
With so many new education technology products on the market, it can be hard to figure out which is the best for your students and how to implement them in your classroom. Many app companies now include video tutorials on their websites. These show off the best features of the product as well as ideas for using it with students. When you're looking to try out a new app or web-based tool, search for the product developer's website to see if their homepage includes a video to watch.
Start a Google Hangout
As you start developing your personal learning network -- especially those from outside of your geographical region -- try hosting a Google Hangout. It's a great way connect with other educators who have similar passions. This tool can also be used to connect with former colleagues, friends you met at a conference or classmates from your education program. You can choose a guiding question and a moderator for your Google Hangout, or ask everyone to read a couple of online articles and treat the meetup like a book club.
Bookmark Articles to Read Later
I'm always coming across great articles on education thanks to my personal learning network on Twitter and other social media sites. Pocket is a fantastic free app that lets you easily bookmark articles to read later. Once you've downloaded Pocket, you can add an article straight from the web browser on your computer or quickly email it to your Pocket account. When you do have time to sit down and read, all of the articles that piqued your interest over the course of the week will be right there at your fingertips.
How are you taking ownership of your own professional development? Share some of your tricks and tips for DIY PD.