Professional Learning
Taking Charge: 5 Key Strategies for DIY PD
Educators create their own professional development opportunities with the many resources available via social media, bringing their admins on board with this new model.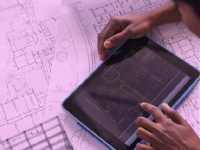 Ineffective and totally useless aren't exactly the buzzwords you expect to come across when discussing teacher development. However, they're not uncommon. As a member of the education community -- former teacher, current higher education professional -- more often than not, I hear friends, colleagues, and peers lamenting about their professional development obligations.
Research shows that professional development helps you become a more effective teacher. There are a number of journals, such as the Journal for Research on Technology in Education and the Journal of Education for Teaching, that cite statistical evidence to prove that, yes, engaging in professional development does increase teachers' confidence and overall teaching ability. However, the Center for Public Education believes that this research is not translating into practice.
In a 2009 study, the Center for Public Education released Teaching the Teachers: Effective Professional Development in an Era of High Stakes Accountability, a national research report indicating that "most professional development today is ineffective." Ninety percent of teachers reported having participated in professional development, and the majority of those teachers also reported that it was "totally useless."
These shortcomings of traditional professional development have caused educators to turn to Twitter for more interactive, robust, and personalized forms of DIY PD.
Power of the #Hashtag
Teachers are harnessing the power of Twitter and social media to shape their own professional development. The Journal for Research on Technology in Education recently released two studies that explored the powerful relationship between Twitter, professional development, and teachers' self-efficacious beliefs. Visser et al's article "#TwitterforTeachers: The Implications of Twitter as a Self-Directed Professional Development Tool for K-12 Educators" investigated K-12 teachers' access to, usage of, and perceptions of Twitter. Key findings of the study indicate that teachers are using Twitter primarily for professional development and improved classroom practice. They also note that the "culture of Twitter" in teacher-based communities fosters collaboration and participation.
How and Why Educators Use Twitter: A Survey in the Field (Carpenter and Krutka, 2014) investigates Twitter's power for teachers, surveying 755 K-16 educators on how and why they use this medium. The study investigated the three core uses of Twitter:
Communication
Classroom
Professional Development
The results indicated that educators value Twitter's "personalized, immediate nature, and the positive and collaborative community it facilitated." Notably, 96 percent of survey respondents said that they use Twitter to share and acquire resources as a means of professional development, citing "combating isolation" and "finding community" as common themes among why educators are accessing Twitter more thoughtfully.
I have seen the power that Twitter chats have on shaping professional development. As a graduate student, former special education teacher, and current community manager for Teach.com, I use Twitter and #edchat every day to shape my own learning and development in the education vertical. Whether following conference hashtags, participating in weekly #edchat conversations, or organizing my Tweetdeck to follow key influencers, I can say that Twitter has been one of the most significant media in shaping my own learning and development outside of my graduate program. It was through #edchat that I learned about SXSWedu, and I will be attending in March as part of a team with Teach.com and USC Rossier.
Hashtags are a powerful tool. They're used to organize jokes (search #NoTeacherEver for humorous insight into the disconnect between theory and practice), to follow conferences, or to connect on a common theme or idea. Hashtags are often used as a way to organize a virtual conversation via Twitter, known as a Twitter chat. Teachers, administrators, and education professionals around the world are using Twitter chats to expand their personal learning networks (PLNs).
But What Now?
The numbers and data are great, but what do they all mean? How can we use the findings of these studies (among others) to enhance our professional development? How can we translate this research into practice to better inform our own professional development, either in our schools or on our own? Here are five tips for how to be proactive in your DIY PD:
1. Take Action
Plan to meet with your school principals, administrators, directors, and managers. Show them the facts. Organize a strategy where you can implement social PD into your traditional PD schedule.
2. Get Connected
Jump on Twitter! If you're not already connected, signing up is easy. After you've signed up, get yourself involved in Twitter chats such as #edchat, #NTchat (new teacher chat), and other important hashtags.
3. Stay Connected
4. Become an Expert
Socially-driven conferences and seminars are a great place to connect with innovative educators and learn more about how you can charge of your own learning. For starters, look into SXSWedu and Edcamps in your area.
5. Read!
The best advice for becoming well-versed in any area, especially innovative teaching practices, is to read up on key trends. Follow blogs such as Edweek, The Atlantic Education, and NPR Education. For starters, create a feedly account, a personalized RSS-feed reader that allows you to collect all of your key resources in one easy-to-read place.
Research
Center for Public Education. Teaching the Teachers: Effective Professional Development in an Era of High Stakes Accountability (PDF, 631KB). National School Boards Association.
Visser, R., Calvert Evering, L., & Barrett, D. (2014). "#TwitterforTeachers: The Implications of Twitter as a Self-Directed Professional Development Tool for K-12 Teachers." Journal of Research on Technology in Education, 46(4), 396-413.
Carpenter, J., & Krutka, D. (2014). "How and Why Educators Use Twitter: A Survey of the Field." Journal of Research on Technology in Education, 46(4), 414-434.