Technology Integration
Tools for Professional Learning: Curate, Share, Connect
May 8, 2014
Updated May 20, 2014
For six years, I taught in a basement classroom with no windows, and yet I could see what was happening around the world thanks to the Internet. Though I tried learning something new each day, until I put systems in place, I spent more time searching for materials than actually learning. I realized that to effectively engage in professional learning, I needed tools in place to curate content, save what I found, and connect to other educators.
Curating Content
Initially, reading and learning was easy. Each morning, I skimmed 2-3 blogs to see what might be new. However, as my reading list expanded, I needed a better system. First, I subscribed to blogs by email. However, 30 messages a day was far from manageable. Rather than visit each blog individually or wade through dozens of emails, I wanted content pushed to me on one screen so that I could focus on reading rather than searching. I needed an RSS Reader -- a tool that would automatically aggregate new content in one place.
NetNewsWire (Mac Only)
When I first installed this program, my reading world exploded. As I added the blogs that I wanted to follow, it pulled in content and even alerted me to what was new. However, I had a problem: I wanted to seamlessly read on both my home and school computers, so I shifted to Google Reader. It gave me a similar experience as NetNewsWire but worked across devices.
Sadly, Google Reader went defunct. Needing a way to continue reading, and to import my existing links from Google Reader, I switched to Flipboard. With this app, I could flip through articles in a format similar to reading a magazine. Another great benefit to Flipboard is the ability to follow hashtags and individual Twitter accounts. When working with teachers who are new to social media, this is a great entry point, as it lets them lurk within the familiar paradigm of reading an e-zine.
While I personally don't use Feedly very often, I like to find tools that work across all devices. In addition to having iOS and Android apps, Feedly also syncs to the web. Like Flipboard, it offers a sleek interface for reading, and includes settings to save and share resources.
Save, Search, and Share
With my curation tools in place, I ran into three more problems.
Once I found a great link, what would I do with it? If I bookmarked it on my home computer, I wouldn't have it at school -- or vice versa.
I couldn't remember what I'd bookmarked or where I'd bookmarked it.
Finally, and maybe most critically, I drove my colleagues stark raving mad as I flooded their inboxes with links. Eventually, they either ignored or deleted me.
Solution: social bookmarking. Instead of adding bookmarks to a browser on my computer, I started saving them to the web so that they could be accessed from any device, organized, tagged for easy searching, and shared with others.
Personally speaking, this tool has solved all of my problems. I can save links, add highlights and sticky notes as I read, and then access everything from any device. Additionally, Diigo rectified my problem of email bombardment. Rather than send links every two minutes, I can add them to a list or group of interested parties and then share the link. Suddenly, I could share my learning with colleagues or students, and invite them to contribute their links as well. The video tutorial below highlights a number of these features and walks through how and why you might choose to use them:
video
About two years ago, Suzy Brooks introduced me to the concept of using Pinterest for saving and sharing links. She liked the visual layout of using digital bulletin boards better than long lists. Much like Diigo, Pinterest organizes links (a.k.a. "pins"), shares resources, and even allows board sharing for collaboration.
Beyond being a digital notebook, Evernote is great for saving and sharing content, especially when used with the Evernote Web Clipper. This button can be installed in any browser, on any device, and saves the contents of a web page (including the link and a screenshot) to a designated notebook in your Evernote account. Once saved, the title and contents become searchable, and you can add additional text or audio to capture your thinking. Notebooks of links can then be shared by a unique URL or directly to another Evernote account. In addition to being great for professional learning, Evernote makes an excellent student research tool.
Make Meaningful Connections
Once I had organized my learning, I could better formulate ideas and share them with a wider network of connections. I started using LinkedIn to join professional groups like TechinEDU and iPad for Education and Training to learn from a new audience, as well as Facebook to follow bloggers and publications like Edutopia. Eventually, I expanded to Twitter, where I connected with even more educators. There are a number of ways to build meaningful connections, and Jennifer Carey has a great article about 3 Ways to Kickstart Your PLN (Personal Learning Network).
In writing this post, I realize that much of professional learning comes from connecting to other educators, consuming new content, and then sharing back out -- creating a cycle: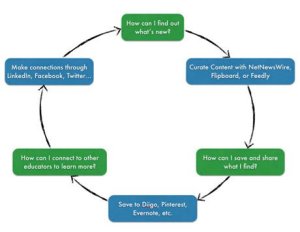 Given the plethora of tools, there is no one way to engage in professional learning. Create a system that allows you to curate content, save great resources, and share with others in whatever way best fits your learning style, devices, and preferences.