Interest-Based Learning
Is School Enough? Exploring Interest-Driven and Informal Learning
Meet students around the country who are engaged and passionate about learning — outside of the classroom. Explore additional resources about student engagement and passion-based learning for both parents and educators.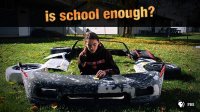 Is School Enough? Video Series
Major funding for the PBS show and video series was provided by the MacArthur Foundation and the Pearson Foundation.
Lessons From Informal Learning
Big Thinkers on Learning Outside of School
How Parents and Families Can Get Started
How to Have a Healthy, Brainy, and Fun Summer, by Ramona Persaud (2013)

Documentary filmmaker Ramona Persaud shares a list of family activities that promote summer learning without taking the fun out of vacation time -- and they're good ideas for the whole year 'round!

Technology at Home: Developing the Social Self, by Douglas Rushkoff (2013)

Media theorist Douglas Rushkoff encourages parents of tweens to let their children's social selves develop through reasonable limits on their digital access.

Parent Leadership in Education: Resource Roundup (2012)

Experts agree that parent involvement in their children's education is one of the biggest predictors of student success. As a parent, where do you begin? We've compiled a list of articles, videos, and other resources to help you engage in a productive way with your kids' teachers and school.

A Parent's Guide to 21st-Century Learning, by Suzie Boss (2012)

Discover the tools and techniques today's teachers and classrooms are using to prepare students for tomorrow -- and how you can get involved.
Resources Around the Web for Encouraging Passion-Based Learning