5-Minute Film Festival
5-Minute Film Festival: DIY Education at the Maker Faire
May 18, 2012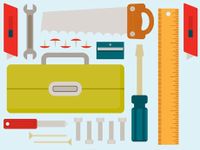 Image Credit: iStock
Teachers who love hands-on learning and the DIY movement are a match made in heaven -- and nowhere is this better represented than the Maker Faire. I'm lucky enough to have participated in this event three times, as both a visitor and a maker, and it's still challenging to describe this celebration of people-powered technology, art, science and ingenuity, where you are as likely to encounter fire-breathing robots as you are fluffy electric cupcake cars. Since 2006, Maker Faires have been held annually in the San Francisco Bay Area, and there have been Maker Faires in Austin, Detroit and New York, with community-organized Mini Maker Faires sprouting up around the country. And the 7th annual Bay Area Maker Faire is this weekend, May 19th and 20th -- get tickets now!
Whether you can experience a Maker Faire in person or not, you can certainly take inspiration from the boundless enthusiasm and creative risk-taking of everyone who participates -- and don't forget to be a maker yourself. Here are some videos to inspire you.
Education at the Maker Faire
Watch the first video below, or watch the whole playlist on YouTube.
More Ways to Celebrate DIY Education Year-Round
There are plenty of ways to bring the spirit of the Maker Faire into your classroom or community. As Make Magazine and Maker Faire founder Dale Dougherty says, all of us are makers!
Stay Connected: