Technology Integration
Open Educational Resources Meet Instructional Design
To find the best OER, consider the skills you're teaching, how content aligns with standards, ease of assessment, and whether you'll provide an active, creative experience.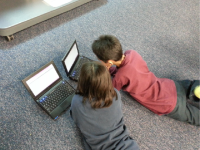 Well, we made it to 2015, the year in which we were supposed to have hover boards, flying cars, and the Cubs winning the World Series (that may still happen). Back to the Future II gave us a glimpse of what 2015 might look like through the eyes of Doc Brown and Marty McFly. Despite the many great innovations we've developed since that 1989 movie, one constant remains in our world: paper. Despite advances in tablet technology and eReaders, paper has found a way to coexist with technology and live on.
Personally, I enjoy reading a book made out of paper. I also like the romanticism of the Sunday New York Times and a cup of coffee. However, that's about the extent to which I consume through paper media. The rest of my world lies in a digital realm. But I'm just one person. What digital media offers us is convenience, personalization, and efficiency.
Asking the Right Questions
In my previous post, I suggested a strategy that would help organize the transition from textbooks to digital content delivery. The premise focused, not on recreating a textbook structure in digital format, but on simply remixing the idea of content delivery altogether. In essence, it's not the textbook that needs to change -- it's how we deliver content to our students. Additionally, this transition lies in how we design and integrate that delivery system and with what tools we can work.
When considering this transition, whether it's a district or school-wide initiative, or simply a personal mission, it will require some research into finding the right content and resources to deliver, as well as reimagining the instructional design process. Whether you are using technology or simply shaking up the myopic way that the textbook has forced many of us to teach for years, the key is to begin with some questions about your instructional design:
What skills do you want students to learn and apply?
What content will you deliver, and how does it connect to the desired outcome and align with standards?
How will you check for understanding and challenge students to apply their learning?
How are you transitioning the learning from a passive experience to an active, creative experience?
Ultimately, these questions will help begin the instructional design process. Additionally, it does not require any technology -- we just need to think differently about how we deliver content, check for understanding, and challenge our students to apply their learning. And by "apply," I don't mean a worksheet or a multiple-choice quiz. I mean that we must challenge them to question and use their learning to seek out an answer that cannot simply be Googled. After looking at these concepts, you'll begin to see ways in which you can integrate technology and find meaningful content for students.
Finding the Right Content
Once you've started sketching out your instructional design, you can begin seeking out resources for content. Since I first started writing about open educational resources a few years ago, there has been a flood of new sources that educators can seek out for content. But more doesn't always mean quality. I have never been one to suggest 300 apps for the iPad, or 378 Chromebook extensions for the classroom. Rather, find one or two apps or resources that work best for you, become an expert with them, and focus on student learning rather than app harvesting.
Below you will find two sources that I have used personally and recommended over the past four years. Both iTunesU and OER Commons are well-respected OER sites, and both offer a wealth of vetted, credible information that can be integrated into your instruction.
iTunesU
I mentioned this in my last post and feel that it's one of the most underutilized sources of content out there. Essentially, iTunesU is one of the largest repositories of OER in the world. Educators, professors, and academics from around the globe are sharing their teaching and their content. Depending on the licensing of the content, teachers can build their course by selecting pieces of created courses and organize it through the iTunesU course manager. This can be done on an iPad or a laptop. Additionally, educators can share courses and content with each other. School districts can also apply to get their own bookshelf in the iTunesU catalog. If your school district is using iPads, I highly suggest this option.
OER Commons
OER Commons offers educators a place where they can connect and share globally with other educators, and work with the curriculum those educators have shared. OER Commons offers a vast database of teacher-created curriculum and the ability to organize their courses. The content is vetted for credibility and provides citations for reference. Users can sign up for a free account, which lets them share, access, and curate their own content. Educators can also submit original content and house it with the other content on the site. Additionally, educators can add tags and align content with the Common Core State Standards and Next Generation Science Standards.
These two sources are a great starting point for organically integrating content into your instructional design. Whether you're using iPads, Chromebooks, or laptops, these resources will provide a wealth of information to add to your course. Again, we're not simply recreating the textbook in a digital form, but considering the instructional design, the technology used, and the content delivery system. Additionally, it allows teachers to have full autonomy over the content they deliver and to develop dynamic integration strategies that challenge our students not only to learn various skill sets, but to apply them creatively.