Game-Based Learning
4 Best Practices in Implementing GBL
For successful gamification, build the excitement, use the data you collect, make the game fun for all students, and never underestimate the value of play.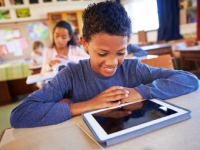 Are you seeking a high-engagement makeover for some content you're required to teach? Do you need an organizational structure for individually-paced hybrid learning? Gamification might be just what you are looking for.
Here are some truths about gamification and some tips for success.
1. The game needs to play well with students and their parents.
Your gamified lesson needs buy-in across the board. When you introduce gamified instruction, make it an event. Write a blog post, send newsletters, run an ad campaign on the whiteboard -- but most of all, send clear communication home about the learning goals for the lesson and how you will be helping all students to meet those goals. Be prepared for frustration from parents and students, especially those students who are good at traditional school. This won't always be the case, but don't let it surprise you. School is already a game, and now you're changing the rules. If the gamification is effective, these students can learn more, but it also might be more work for them. By communicating early and often with parents and your administration team, you can help everyone understand how this instructional modality is helping all of your students.
While I'm doing a project like this, I drop into my principal's office and give her informal briefings. I'm excited about the work happening in my classroom, and I want her to hear about it from me. These briefings also prepare her for conversations that she might have with parents or other teachers.
2. With great data comes great responsibility.
Some of the best uses of gamified instruction involve helping students navigate a large amount of content in a self-paced, hybrid-learning environment. Once we move the teacher out of the traditional "sage on the stage" role, we have to really pay attention to assessment. When I'm running a class, I'm constantly assessing how well my students understand the lesson. I ask them questions, peek over their shoulders while they work, and sometimes I even give quizzes. Most of this assessment is formative and informal, and I adjust the class based on the results.
Thinking about the gamified classroom, I want to know where this formative assessment happens. How will I design the game experience to assess how the students are doing? The opportunity in this challenge is that I can invite my students into the assessment process. Whenever possible, I ask them to self-report their progress and understanding, which brings them into an assessment dialogue. This is real empowerment. I'm thoughtful about the types of learning I ask students to self-report on, and the process requires auditing. In the best case, while they're engaged in playing the game, I'm looking at spreadsheets connected to the Google Forms I designed to help the students self-report. The bottom line is that you shouldn't waste the data opportunity in the game -- have a plan for how the data you collect will shape instruction.
3. A leaderboard is no fun for struggling students.
When we think about gamification, what immediately springs to mind are levels, badges, and leaderboards -- the visible trappings of the game. While I can imagine an amazing leaderboard at the front of the room proudly displaying the top students in the quest to understand Romeo and Juliet, I have to pause and consider the other end of this list. I see some clear connections to behavior charts, and I am reminded of Pernille Ripp's blog post on charts and shaming, forcing me to ask, "If I am hoping to engage my most challenged students in a gamified instructional model, would they feel supported by a leaderboard?"
Clearly-defined levels of achievement are one of the most useful aspects of gamified instruction. In fact, that is what makes it such a great way to support individually-paced hybrid instruction. The kids know which level they're on, and they'll talk to each other and find out where their peers are. I don't need to make a leaderboard available to the whole class. It would send the message that I highly valued those students in the lead positions. The challenge is finding ways to celebrate all learners in your classroom, and in this case you'll have to work against the natural mechanics of most games. We need each student to be able to win his or her own quest.
4. Play is a powerful teacher.
When we have fun in a safe social setting, our brains are ready to learn and we are fully present in that learning moment. When you approach gamified instruction, discover how you can use game mechanics and choice to have fun together. Don't just wrap some worksheets up in the trappings of play. Get the content off the page and into a more playful space. Don't forget the fun. Friendly opt-in contests can give kids the option to compete directly with each other. If you design levels with flexible requirements, students can develop really fun ways of working together to show their understanding. For example:
Write a song about factoring.
Create a stop-motion movie that models water's change in state from a gas to a liquid.
Design a Google lit-trip detailing some part of the Underground Railroad.
In these cases, the fun comes in the form of choice and creative empowerment.
Have you gamified a lesson or unit? What best practices can you add to this list?