5-Minute Film Festival
5-Minute Film Festival: The Science of Sports
August 1, 2014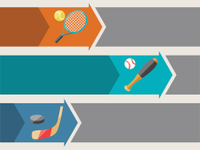 Editor's Note: VideoAmy here ... I'm excited to have Edutopia's new Web Video Strategy Coordinator, Keyana Stevens, guest curating today's Five-Minute Film Festival. You may be seeing more of Keyana in this space moving forward, I'm sure you'll love her picks as much as I do!
All the attention around the World Cup last month got me thinking: sports offers a perfect opportunity to explore scientific concepts like force, motion, potential energy, velocity, and torque. Use these videos to inspire your students to look beyond the surface of the game's latest score and find out why a ball bounces, how physics keeps a bike upright, and how a football slices through the air to travel long distances. You just might be able to spark a sporty kid's interest in science -- or vice versa!
Video Playlist: The Science of Sports
Watch the first video below, or watch the whole playlist on YouTube.
video
More Resources for Exploring Science and Sports
Whether you want to explore online, get out and play, or do some hands-on learning, there are many more resources for learning about how science and sports intersect.
If you have any resources of your own, share them by commenting below!