Assessment
How Using Authentic Digital Assessments Can Benefit Students
Digital assessments that include elements of student choice encourage high school students to engage deeply with course content.
With the pandemic dramatically changing the landscape of education, many teachers are struggling to create authentic assessments that meet the needs of all students. In my own district, we've switched between virtual, hybrid, and full face-to-face classes throughout the year. Students and teachers must be adaptable to change at a moment's notice. How can we adjust the assessment process to keep pace?
Here are some ways I'm changing assessments this year to better meet the needs of my students. I anticipate using these not just this year but also in the future.
Approaching Assessment in Distance and Hybrid Learning
Virtual assessments: Instead of relying on paper documents, use digital modes of assessment. Not only can they easily be adapted to online settings, but also they ensure authenticity. One way to assess students virtually is to put a text—a chapter of The Great Gatsby, for example—into a Google doc and read it collaboratively as a class, sharing responses either out loud or by typing them in the text.
With this method of assessment, teachers can hold students accountable for actually reading the text, since teachers can see in real time if students have accessed the document and keep track of the comments and responses. Another advantage of this strategy is that students can attend class virtually and still be a part of the discussion.
Google HyperDoc is useful for authentic virtual cumulative assessments. For the English IV British Literature midterm, I gave students tasks that they accessed through HyperDoc. I chose a simple template and had students respond to a prompt about themes and texts from the semester and write a reflection on the class overall and their learning. Students were able to complete the assignment in their own time, and those who were quarantined were able to access the work from home.
Student choice: To create assessments that encourage students to think critically and not cheat, virtual assessments should require that students create a product of learning that is unique and individual to the student.
Letting students choose how they display their learning is especially important for authentically showing their learning during this time. Each student is different, and each deserves to demonstrate their learning in different ways. Offering choice also makes students more confident in their assessments, which eases emotional stress.
Another example of using student choice is my English III American Literature Unit 2 Assessment. In this unit, we studied Romanticism and Gothic literature, focusing on theme, imagery, symbolism, and setting. I asked students to produce a visual representation of how setting connects to imagery, symbolism, and theme, by creating a floor plan or a drawing, or by constructing a house or room based on a text, author, or idea from our unit. I also asked them to write about the connection between their visual and the text, and explain why they chose the elements and how their visual connected to their text, author, or idea, with evidence from a text.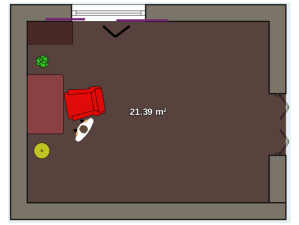 Courtesy of Lauren Gehr
As part of a digital assessment, a student drafted a plan of the room in Edgar Allan Poe's "The Raven."
There are several elements of choice in this assessment. First, students weren't limited to a certain text from the unit, and they could also choose how they created their product. This is where students were most impressive. One utilized a digital floor plan program and created a visual of the "chamber" from Edgar Allan Poe's "The Raven." Another student created a visual of the same chamber using the popular game Minecraft and recorded their game play. Another student chose The Sims to create what they thought Edgar Allan Poe's house would look like based on our readings. The variation of their responses reflected the variation of their learning styles and gave each student an individualized approach to showcase their learning.
Deadlines: When I assess students, I assess them on what they've learned, not on their ability to submit their work by a deadline. Students are free to submit their products of learning when they've truly mastered the content. If students are going to exceed the deadline of the assessment, I encourage them to let me know the status of their progress.
I use deadlines as a goal for students, which gives them the structure of a deadline. Students have the option to extend their deadlines if necessary, with no grade penalty. Being lenient and understanding with deadlines eases stress. Students also become more independent and responsible for their learning when you remove the pressure of deadlines.
Even though teachers need to be understanding during this unprecedented time, it doesn't mean that assessments and instruction shouldn't be rigorous. Teachers must be innovative in order to challenge their students in the appropriate way. Virtual assessments are the most effective and efficient methods for assessing student learning today and tomorrow.