Inquiry-Based Learning
Bringing Inquiry-Based Learning Into Your Class
A four-step approach to using a powerful model that increases student agency in learning.
Adopting an inquiry-based learning (IBL) approach in my classroom has been the most meaningful change I have made in my teaching. The benefit of increased student agency in learning, the authentic connections we make to the world around us, and the 21st-century skills IBL nurtures are great reasons to explore how inquiry can enhance what you are doing in your classroom.
But with great opportunity come challenges all educators should consider before diving into inquiry. Perhaps one of the greatest mistakes the inquiry teacher can make is to give too much agency over learning to learners too soon. Many teachers get so inspired by the Free Inquiry process I share at conferences, as well as the demonstrations of learning students produce, that they have their students dive right into Free Inquiry when they make this powerful change in their teaching. In my experience, without scaffolding students will not feel as confident or supported through their inquiry journey.
The Types of Student Inquiry
The Types of Student Inquiry are a scaffolded approach to inquiry in the classroom, one that gradually increases student agency over learning while providing learners with the necessary skills, knowledge, and understanding to be successful in their inquiry.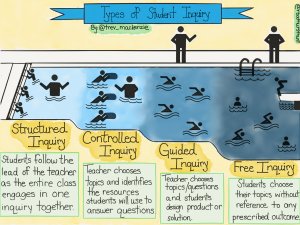 © Trevor MacKenzie, inspired by Fitchman, 2011
In the shallow end of the Types of Student Inquiry pool, Structured Inquiry gives the teacher control of the essential question, the starting point—for example, "What defines a culture?" or "What is the importance of the scientific method?" These questions are not answered in a single lesson and do not have a single answer, and, in fact, our understanding of an essential question may change over time as we research it. In Structured Inquiry, the teacher also controls specific learning activities, the resources students will use to create understanding, and the summative assessment learners will complete to demonstrate their understanding.
In Controlled Inquiry, the teacher provides several essential questions. Learners unpack several resources predetermined by the teacher to provide valuable context and rich meaning relative to the essential questions. All learners typically demonstrate their understanding using the same summative assessment.
                
In Guided Inquiry, the teacher further empowers student agency by providing several essential questions, having the students select the resources they will use to research their answers, and allowing them to choose how they will demonstrate understanding. Student agency over learning comes through this selection of resources and the summative assessment.
And finally, in the deep end of the inquiry pool, Free Inquiry allows learners, with the support of the teacher, to construct their own essential question, research a wide array of resources, customize their learning activities, and design their own summative assessment to demonstrate their learning.
How Are the Types of Student Inquiry Helpful?
Inquiry is most successful when strongly scaffolded. The Types of Student Inquiry act as a scope and sequence to support learners in their journey toward Free Inquiry. In my classroom, we begin in a Structured Inquiry model, transition to a Controlled Inquiry unit, move on to Guided Inquiry, and if all goes well, conclude in Free Inquiry. These four types of inquiry make up our time together in the course.
This structure allows us to successfully address the curriculum and the "must know" content and skills of each discipline, grade level, and course. In the Structured, Controlled, and Guided units, I plan to achieve specific learning objectives and unpack particular resources in order to best prepare my learners for whatever summative assessment they will see at the end of our time together. Whether it's a provincial, state, or governing body exam or the SAT, I ensure that this material is learned during the types of student inquiry I have more control over.
Students should feel connected to their learning, certain about how to plan their inquiry, and comfortable with its responsibility. The Types of Student Inquiry structure our coursework and learning in a gradual release of control model, one where students learn essential inquiry skills throughout the year rather than being thrown into the deep end of the inquiry pool right away.
Each of my students has a copy of the swimming pool illustration above, and it hangs on our classroom wall. It illustrates the gradual increase of student agency our inquiry journey will provide, the changing skill set the inquiry learner will gain, and the ever-transforming role of the teacher. It also allows me to speak to the questions, concerns, or anxieties students may encounter in their inquiry. The swimming pool analogy illustrates that we won't go anywhere in the pool until the learner is prepared to do so and that I'm always there to provide support, whether it be in the pool or facilitating from the side.
How to Move Forward in Adopting Inquiry
First, look through the lens of your learners when considering how you want to shape your classroom. Keep them at the heart of your decisions. Think of them as you plan what inquiry will look like in your classroom, imagine how they will respond to the gradual increase in agency, and question how you can best meet their needs.
Second, think big and start small. Take some time to imagine the inquiry classroom you want in a few years and begin to plan to make this dream a reality. Start with a unit you love or that you've seen resonate with your learners. Revamp it to begin with an essential question and frame it in one of the Types of Student Inquiry. At the end, reflect with your learners on how it went.
And last, try to become comfortable with the mess of uncertainty. Even with the scaffolding of the Types of Student Inquiry and the many structures I have in place to support increasing student agency, inquiry doesn't offer a clear destination. What essential questions learners ask, what resources they will unpack, and what new understandings they create are all initially unknown when we begin our inquiry journey. Be prepared for this and for your learners to need support in adopting inquiry as their own.