Project-Based Learning (PBL)
Free Resources and Tools for Replicating Project-Based Learning
Educators from High Tech High in San Diego, California, and the Whitfield Career Academy's 21st Century Learning Academy in Dalton, Georgia, have provided these resources for you to use in your own school.
April 11, 2011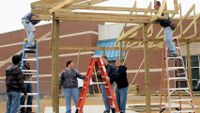 Credit: David Markus
Students in Whitfield County take on a range of multidisciplinary projects and learn math and physics while building an outdoor classroom.
Click on any title link below to view or download that file.
Tips for downloading:
  PDF files can be viewed on a wide variety of platforms -- both as a browser plug-in or a stand-alone application -- with Adobe's free Acrobat Reader program. Click here to download the latest version of Adobe Reader.
  To download a free version of the Microsoft PowerPoint Viewer, visit Microsoft's Download Center.
PBL PRIMERS
ASSESSMENT TOOLS
SAMPLE PROJECTS
USEFUL LINKS

What do you think of Schools that Work?
Tweet your answer to @edutopia or post your comment below.
 
School Snapshot
Per Pupil Expenditures
$8,761 State
•

$7,887 Whitfield County
Free / Reduced Lunch
66%
DEMOGRAPHICS:
37% Hispanic
4% Multiracial
2% Black