Technology Integration
Ten Tips for Personalized Learning via Technology
To challenge and support each child at his or her own level, the educators of Forest Lake Elementary deploy a powerful array of digital-technology tools. Discover what your school can learn.
April 26, 2010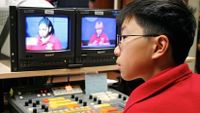 Credit: Grace Rubenstein
Fifth graders like Matthew write and produce an in-school news broadcast each morning.