Differentiated Instruction
Use Formative Assessment to Differentiate Instruction
Educators use frequent formative assessments to determine the needs of each student at Forest Lake Elementary School, and then leverage technology to tap into their learning styles.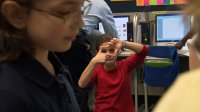 Overview
Personalized Instruction and Regular Use of Assessment
Forest Lake Elementary School (FLES) uses technology to differentiate student learning by initially assessing students with a program called MAP on English and math skills.  They use Palm Pilots to frequently measure progress in reading fluency.  Teachers use immediate response clickers to measure individual student progress in real-time.  FLES has classrooms that hum with energy as the young students independently tap out blog posts, operate interactive whiteboards, and take part in other tech-enabled lessons at various learning stations in each classroom. 
Teachers use a differentiation strategy called IPAC (Individualized Personalized Authentic and Collaborative) learning to make sure each student is learning at his or her personal best.  Students are given a variety of options to show that they have learned the content.  Each student has an individual blackboard account in which they document what they have learned in each class. The parent portal allow parents to access the account and view the content of what is learned.
Teachers at FLES have put electronic learning tools in the hands of students obtaining interactive smart boards and a "Tech Zone" of eight internet-connected computers for every classroom.  Another crucial thing they did was to insist on effective and job-embedded professional development on technology to help the teachers know how and why to integrate the technology in the design of their learning activities.  Finally, because they were selected as a NASA Explorer School, NASA provides the focus for learning math, science, technology, engineering, and geography during the day, and through videoconferencing in an after-school girls-only program.  
How It's Done
Put the Tools in Kids' Hands
FLES differentiates student learning by using technology tools.  The teachers determine the progress of the students using frequent assessments so that they can design learning activities that don't reteach what is already known and are unique for what each student needs.  The ultimate differentiation tool that is used are the stations where students learn at their own pace independently.  Given appropriate training, the students self govern their learning.  This allows teachers more time to work with individual students.
Tools
Interactive whiteboards: Students touch the interactive boards to solve math problems, play games, or write and edit text.
Remote clickers: Ideal for doing quick, real-time assessments as you teach. You can also use them for pretests and posttests or even formal tests for credit.
Digital video cameras: Forest Lake students have used Flip video cameras to photograph shapes around the school and document field trips and film their original skits or record a presentation to show their class.
Mobile devices: Students use them with special probes to measure the local climate.
How to Make it Work
Customizing your teaching to suit each child makes eminent sense. Kids are different, they learn differently, so we should teach them differently, right? But when you're staring out at 20 or 30 students as individual as snowflakes, you may find yourself asking that ever-daunting question: "How?"  Below are suggestions on how to do that using technology.
Maintain Rigor: Give them a rubric up front, so they know what's expected of them. If possible, show examples of model work. (Download sample rubrics from Forest Lake.)
Make Connections: With webcams and video conferences, kids can see and talk to their peers in real time.  Prepare before the meet-up: study the culture, brainstorm questions, discuss Internet safety, and learn email etiquette.
Give Independence: Train the kids on what to do and then let them do it. To start last year, teacher Kevin Durden gave his fourth graders step-by-step instructions for blogging about literature and posting comments on their classmates' blogs. He posted a response to every blog entry to show them the level of discourse he expected. By February, they were sustaining the online dialogue all on their own.
Curate students' online destinations: Give them a clear purpose and a list of sites you've reviewed to choose from. Pick sites that are kid-friendly, colorful, and engaging.  Leave more independent exploration for middle school.
Give kids a real audience: Technology opens up new ways for kids to show their work to the world.  At Forest Lake, fifth graders studying erosion took photographs of patches of their playground that were washing away, then sent the snaps to the school district office with suggestions on how to correct the problem. Second graders videotaped themselves reviewing books they'd read, then voted on the best recordings to show to kindergarteners down the hall.
Relax: Teach them basic care. Show them how to wear the camera strap around their wrist; tuck the computer cables under the table; use protective cases when possible. Make the kids feel like these valuable tools are theirs, and chances are they'll want to take care of them.
Have a backup plan: Don't get caught lesson-less in the event of a technological meltdown, keep some spare batteries on hand just in case, but there's nothing wrong with the printed page if all else fails.
School Snapshot
Grades K-5 | Columbia, SC
Enrollment
592 | Public, Suburban
Per Pupil Expenditures
$4281 School
Free / Reduced Lunch
65%
DEMOGRAPHICS:
65% Black
27% White
5% Hispanic
2% Asian
Data is from the 2009-10 academic year.