Project-Based Learning
Downloads and Resources from Forest Lake Elementary
Free tools, reading lists, web links and other resources to help bring differentiated instruction to your school.
April 26, 2010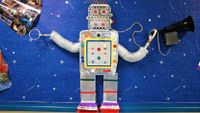 Photo credit: Grace Rubenstein
Science themes, especially space, permeate Forest Lake Elementary, which partners with NASA as one of 50 NASA Explorer Schools nationwide.
Professional development
Teaching strategies
Lesson plans and rubrics
School Snapshot
Grades K-5 | Columbia, SC
Enrollment
592 | Public, Suburban
Per Pupil Expenditures
$4,281 School
Free / Reduced Lunch
65%
DEMOGRAPHICS:
65% Black
27% White
5% Hispanic
2% Asian
Data is from the 2009-10 academic year.

What do you think of Schools that Work?
Tweet your answer to @edutopia or post your comment below.