Professional Learning
How to Build Your Own Multimedia Adventure
Add music and images to your classroom writing exercise, and see how exposure to virtual adventures spurs students' imagination.
Use these digital tools to enhance the writing experience:
Photograpy & Music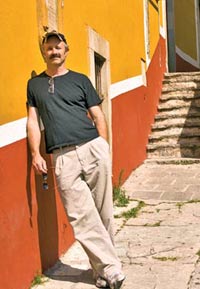 Credit: Peter Lourie
Writing Around the World: Peter Lourie explored the world of the Aztecs in 2004.
Project a set of evocative photos of a particular destination, such as a jungle in the Brazilian rain forest, a snowy trail along a steep cliff leading up to the clouds, or the expanse across a desert valley. Select images that are clearly a faraway and magical place that will invite mindful exploration. Play music that clearly relates to the setting as the images are projected.
You can also create a multimedia presentation of your own by combining still images with music using free software. Try the "Ken Burns effect," panning and zooming in on photographs to create the illusion of movement.
TrekEarth: High-quality images from all over the world.
Microsoft Photo Story 3: Free software that combines photos and music.
Soundslides: Software for creating audio slide shows.
Video & Music
Project video clips of a destination while playing instrumental music in the background. Start the movie and the video at the same time, then fade out the video after a few minutes, but allow the music to continue playing for 30 minutes or more as students continue to write.
Discovery Education streaming: Find videos of student adventures around the world.
Microsoft Movie Maker: Free software for digital filmmaking.
Writing Exercise
Instruct your students to begin by clearly describing the setting they've just seen on the projector. Invite them to write about an adventure in this new land. It doesn't have to be a full narrative, just an experience. Afterward, ask the students to read their writing aloud in class. You'll be amazed that even with the same multisensory prompts, students convey incredibly varied experiences.
Dave Somoza is a fifth-grade teacher and coauthor with Peter Lourie of Writing to Explore: Discovering Adventure in the Research Paper.