Student Voice
Driving Engagement Through Voice and Choice
Ideas on how to bring personalized learning into your classroom.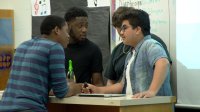 Overview
Addressing four teenagers standing at the front of the classroom, Gary Hook, a history teacher at Nashville Big Picture High School, told them, "I'm going to give you $100,000 for 20 percent equity in the company. I need to know right now, though. I need to know whether you're in or not."
A panel of four additional 11th-grade teachers sat beside Hook, and each of them took turns making different investment offers based on the product, potential revenue, and investment request that the students initially pitched.
The power switched into the students' hands when they chose an offer, and all of their classmates erupted in cheers. They were participating in a two-week Shark Tank project -- based on the show of the same name -- where entrepreneurs pitch investors to fund their company.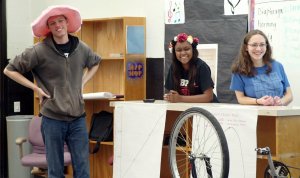 © Edutopia
Three Nashville Big Picture teens after they chose an investor for their Shark Tank project.
What began as a classwide math project to learn about the profit function equation and quadratic functions culminated into a grade-level presentation to imitate the show Shark Tank.
"One of the things you hear all the time as a math teacher is, 'When am I ever going to use this?'" says Derick Richardson, a Nashville Big Picture math teacher. "I try to bridge that. And so through this project, the kids were able to see, 'Oh, man, we're talking about stuff that I hear on the news and that I see on this TV show that I like, and it actually makes sense.' Everybody got involved, even the kids that are not good at math. I've never seen these kids get this excited about a math project."
"When you're able make learning relevant to a student," adds Chaerea Snorten, Nashville Big Picture's principal, "it helps them want to do it and not just because that's what's expected. The whole focus of personalized learning is that students see the relevance of what it is that they're doing. The outcome is students are engaged, and they're enjoying the learning process."
If you want to engage your students in personalized learning projects, here are six tips from Nashville Big Picture High School for how you can get started.
How It's Done
1. Make Your Projects Simple
Not every project has to be a grade-level collaboration like the Shark Tank project. Instead of the traditional paper or PowerPoint presentation, give your students choices in how they show their learning. They may choose to make a video, act out a skit, or create a painting.
Kristin, a Nashville Big Picture junior, was asked to depict slavery in any way that she wanted for her history class. She chose art. Her painting depicted Harriet Tubman and a slave girl against a backdrop of words.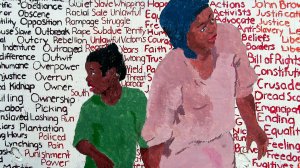 © Edutopia
These words -- ranging from "kidnapping" to "hope" -- depicted a slave's journey from slavery to emancipation. She appreciated not only being able to choose how she would express her learning, but also the public display of her art -- alongside other students' work -- in the school hallways. "My art is a part of me," shared Kristin, "and so for people to walk by and see a part of me, it feels great."
When Harley, an alumnus, entered Nashville Big Picture in ninth grade, he was given the choice in how he could approach his first project. "I made a video documentary about myself," Harley recalls, "and from that assignment, I realized that I loved making movies." From that moment forward -- from his exhibitions to his senior capstone project -- Harley expressed his learning through video. "I wouldn't have put in as much time and effort if I had to write a lot of papers, but by making a bunch of videos, I was able to do awesome work because it was something I cared about," he says.
2. Let Your Students Choose What They Learn (It's Not as Scary as it Sounds)
In place of a quarterly test, Big Picture history teacher Gary Hook assigned his students a mini-project to research, investigate, and present on a topic within modern U.S. history. He gave them a list of topics from the '80s to the present -- ranging from movements (like gay rights and Black Lives Matter) to the impact of social media on modern-day society. If there wasn't a topic on the list that his students wanted to research, he let them choose their own topic as long as it fit within modern U.S. history.
Give your students a list of options from which they can choose, whether it's a book to read in language arts, a topic to research in history, or a business to create in math. "With project work, I try to give them a menu of options that they can choose from to show their learning," explains Hook, "as well as a menu of options that they can choose to research. This allows them to operate in a space where they are comfortable."
3. Give Your Students a Project Framework
Giving your students choice in what they learn and in how they express their learning doesn't mean that content or standards get thrown out the window. Hook was able to give his students choice while still meeting his content objectives. Nor does giving your students choice mean that your assignments lack structure or planning. "When it comes to personalizing our learning, we have to look at what our content and standards are. We start there," says Snorten.
"The essence of personalized learning is understanding where the student is and where they want to go, as well as where you need them to go," adds Hook. Give your students a project brief to make sure that they cover the content and skills you need them to learn. Hook gave his students a project brief outlining the objective, topic options for research, guidance on how they'll carry out their project (such as working in groups and presenting their topic), and details on what needed to be included in their process.
4. Use Temperature Checks to Assess Your Students' Work
When assessing personalized learning projects, do one-on-one or group temperature checks with your students. Are they hot or cold? Are they way off or close to grasping what they need to understand? When Richardson's students were working on the Shark Tank project, he would go from group to group, checking in on their profit functions.
Richardson also checked in on their progress with their product, their marketing campaign, and the elements of their project that were less tied to math. "Sometimes you have a project, but you don't follow up," he explains. "You hand out a sheet of paper, they go do it, and that's it. I really wanted them to get excited about this, be passionate about it, and create something that they really might be able to use outside of the classroom." Student choice about their project brings relevance to their learning. By showing interest in the whole project, you show interest in their passions and in your students themselves. They'll become more engaged in their work if they believe that you're excited and engaged in what they're doing and in who they are.
5. Get to Know Your Students
"We need to understand who our students are and how they learn," stresses Richardson. Once you understand your students' needs, you won't waste time delivering content in a way that they won't comprehend. "It saves you a lot of time and effort," he says.
"Like adults," adds Courtney Ivy Davis, Big Picture's school counselor and internship coordinator, "their passion is what drives them. It's what gives them excitement, and we want them to be excited about their passion and tie that to their education so that they can be successful lifelong learners." Students don't walk into your classroom with their passions and interests written on their forehead. You have to uncover these things while giving your students the opportunity to explore and discover their interests for themselves. By offering them choice in what and how they learn, you allow them to figure out how they learn best. Building intentional relationships with your students will allow you to guide them in this discovery. Here are 22 ways that Nashville Big Picture builds intentional relationships with their students. (Note that these strategies are applicable even if you're at a bigger school.)
6. Ask Your Students What They Want and Need
"Student voice is number one," emphasizes Snorten. "Hear it, learn it, ask for it. 'What is it that will help you do better? How can we help you improve? What do you need from us?'" Building personal relationships with each of your students is important, but it also takes time.
If you have a class of 40 students, and want to know their needs and interests now, ask them.
Help Your Students Figure Out How They Learn Best
Rather than opening a textbook, memorizing steps to an equation, or learning the teacher's method on how to understand something, personalized learning allows your students to figure out how they learn best. They also get to see how their peers learn best, showing them that there are many ways to problem solve and reach the same solution. "At other schools, they might know one specific way to do things," explains Richardson, "but our students are prepared to be more creative in how they figure out the solution. They learn how to learn on their own, and they take that into college."
School Snapshot
Grades 9-12 | Nashville, TN
Enrollment
182 | Public, Urban
Per Pupil Expenditures
$10875 District
•

$9265 State
Free / Reduced Lunch
59%
DEMOGRAPHICS:
56% White
34% Black
9% Hispanic
1% Asian
Data is from the 2015-2016 academic year.