Social & Emotional Learning (SEL)
Advisory: 22 Ways to Build Relationships for Educational Success
Nashville Big Picture High School shares many ways to build intentional relationships with students — strategies that can work at schools of any size.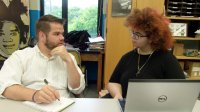 Overview
A shy and quiet ninth-grade student, Harley didn't want to make friends when he entered Nashville Big Picture High School. He didn't think he could. "Freshman year, I didn't think I could really do anything," remembers Harley, now a Nashville Big Picture alumnus and a rising college freshman. "Now, I believe in myself."
On the first day of school, everything changed for Harley in his ninth-grade advisory when he met Michael, today one of his best friends. "He helped me to expand myself, talk more, and become friends with more people. I can now easily go up to somebody, shake their hand, and start a full-on conversation with them out of thin air," notes Harley. His confidence shows in his senior capstone project, a 20-minute documentary honoring his graduating class. "I interviewed every student, every teacher, and most of the staff that we have ever interacted with," recounts Harley. He also interviewed his peers about student voice and choice for Edutopia.
Relationships are the hub of advisory. Students stay with the same peer group of about 15 students -- as well as the same advisor -- throughout all four years. "Advisory gave me a place in school that I looked forward to," recalls Harley. "In middle school, I would dread every day having to be with those kids again, but at Big Picture, I looked forward to seeing not only the group of people I considered friends, but the group I considered family."
Students at Nashville Big Picture attend advisory Monday, Wednesday, and Friday (their on-campus days) for 15 minutes in the morning before classes and two hours at the end of the day. (They're off-site at internships on Tuesday and Thursday.) During advisory, they have individualized learning time where they work on projects and assignments for their classes; ten-minute one-on-one meetings with their advisor weekly (the frequency and time can change depending on their students' needs); and relationship-building activities, like family meals, problem-solving discussions, and games of Uno. 
Nashville Big Picture has a 95 percent attendance rate and a 98 percent graduation rate. "They want to be here because they feel welcomed," says Chaerea Snorten, Nashville Big Picture's principal. "They feel like they matter. They feel loved and appreciated."
If you want to create a culture where your students feel supported, appreciated, and safe to open up to you, here's how you can adapt Big Picture's philosophy of building intentional relationships, both inside and outside of advisory.
How It's Done
22 Ways to Build Intentional Relationships With Your Students, Even If You're at a Big School
If you can't fit advisory into the master schedule, you can implement a lot of what Big Picture does during homeroom, in your classroom, or during lunch and break periods. At the heart of advisory is building intentional relationships with your students. Here are 22 ways to do that.
1. Know your students' names, suggests Snorten. When you use someone's name, you're recognizing their identity. It's simple, but it helps your students know that they're being seen.
2. Recognize something that your students like. "Even something as simple as, 'I know your favorite color is green,'" recommends Snorten. "Or, 'I know your favorite football team is the Washington Redskins' -- anything like that. It's a talking point."
3. Notice something about your students. "'Hey, I love your blouse. It's really pretty.' That extends itself for a conversation," explains Snorten.
4. Ask your students about their experience in after-school activities. You can say something like, "'Hey, I know that you were able to go speak in front of the mayor. Tell me what that experience was like for you,'" suggests Snorten. "Or, 'You all had a softball game the other day. I understand it was pretty tough. Share some fun things about it.' These kinds of conversations are quick, and they don't take hours and hours to build."
5. If a student is late (or acting up), check in with them. "Instead of saying, 'Go to class,'" suggests Courtney Ivy Davis, Nashville Big Picture's school counselor and internship coordinator, "start a conversation, and say something like, 'Hey, I've seen that you've been late for the past couple days. What's going on? Do you need some help with anything?'"
6. When you're having conflict with a student, use that as an opportunity. As a teacher, you're positioned to help students problem solve and work out their issues. The language that you use in these situations is key, and Snorten advises asking the following questions:
What happened with this situation?
Was there something that you could have done differently? What would the outcome have been?
What are resources that you can use to help you work through issues or concerns that you have?
7. Have your students address you by your first name, offers Snorten. This helps humanize you to your students. You're not just their teacher or principal, but you become Miss Courtney or Mr. Gary who has two cats and loves to freestyle rap.
8. Know that it takes time to build relationships. Whether the role of advisor is new to you, or your advisory group just graduated and you'll be starting over with freshmen again next year, remember that building relationships takes time. "It takes time to get through your students' walls," says Derick Richardson, a math teacher and advisor. "I have an awesome young lady in my advisory. It took a few years for her not to blow up on me whenever we had conversations revolving around conflict. Now I know how to present things to her so she can receive it."
9. Be open, honest, and vulnerable with your students. "There's nothing off limits," says Gary Hook, a Big Picture history teacher and advisor. "I'm honest with them, I'll say, 'Hey, I had an argument with my wife this morning. I'm sorry if I'm in a bad mood. We're going to get through it.' I'll say that, and it disarms them, and they may say, 'I had an argument with my mom this morning, and I'm feeling …' I like to take that approach because, at the end of the day, I know the real student versus a false personality. We get in touch with the human side of one another."
10. Bring your personality into your advisory. If you walk into four advisories at Big Picture, you'll notice that each one is different, and each one reflects the advisor's personality. In Hook's advisory, for example, they'll sometimes have freestyle Fridays. He has been a fan of hip-hop since he was ten, and now he uses hip-hop as an avenue to connect with and engage his students; they challenge him to freestyle rap battles. "I'm pretty much undefeated," he says. Another Big Picture advisor ends each advisory with a game of UNO, which has become an ongoing tournament.
11. Help your students learn that not knowing the answer is OK. "The number one thing that students think about is not wanting to appear as if they don't know something," says Laura Davis, a history teacher and advisor. "That's a big hurdle to get over, getting them comfortable with asking for help."
12. Guide your students to become resources for each other. "They learn who is good at computers, who is good at art, who's good at organizing, and who is good to practice their presentations with," says Davis, "and that is a life skill." Help your students recognize their strengths -- as well as the strengths of their classmates -- so that they can support each other and know who they can reach out to for help.
13. Make sure you take care of yourself. Staying balanced is necessary, says Hook. As a teacher, you're always thinking about your students. The same is true for being an advisor, and maybe even more so. When considering your students' needs, don't forget your own in the process. If you're burnt out, you won't be able to be fully present for your kids.
14. Create advisory expectations with your students on day one. "The most important thing in ninth grade advisory, from day one," emphasizes Davis, "is setting what the culture of the room will be like. What are the expectations for the students and for the adult?" Have your students create the classroom norms, but allow yourself veto power. Be clear on each expectation and what that looks like. If be respectful is an expectation, what would being respectful look like?
15. "Whatever happens in advisory stays in advisory," stresses Davis. It's important to include confidentiality in the advisory expectations so that your students are comfortable sharing their feelings, struggles, and successes in a safe space.
16. Focus on teaching your students skills with long-term benefits. "Teaching them how to manage their time, their projects, due dates, syllabuses, and multiple apparatuses of online tools -- that's extremely key," says Davis. "Reflecting, journaling, we do that every day. That happens at the very beginning. I want them to take these skills with them all four years. These are things I model every day."
17. Check in with each student for ten minutes. If you have an advisory or homeroom, use some of that time to check in with your students one-on-one. "We talk about school, internships, life, and things they want to let me know," explains Davis. "If you're in a school with 500 students," adds Hook, "and you don't have the ability to connect with a small group, start having conversations about how to do that. Could it work if you add 15 minutes to your day, or if you take ten minutes away from your lunch?"
18. Do something fun. "If you have a homeroom of 36 kids, what could you do tomorrow to build relationships?" asks Davis. "Do something fun to get your students to start slowly breaking down their walls."
19. Let your students do walk-and-talks when they're having a hard day. When Davis' students are having a difficult day, she lets them leave class momentarily to walk with her (while someone covers her class) or with a peer so that they can share what's on their mind. "I think that's really important for kids to know that they have a supportive group of peers -- and an adult -- that will listen," says Davis.
20. Use family meetings to resolve conflicts. If there's an issue, "we gather in a Quaker Circle and talk about what has happened and where we move from here," explains Davis. "It prevents the 'he said, she said,' dialogue. Anyone can call a family meeting. I can, or the students can."
21. Host family meals. "Every first Friday, we pick a menu, and every person has a responsibility," explains Hook. "They bring in their food, and we eat, hang, and laugh together. That's just my way of bringing them all back to this space, refocusing our energy, and hitting home the idea that we're a unit, and we're moving forward." Family meals initiated from a holiday brunch. Hook's students loved coming together to cook for each other, and they came up with the idea to have a family meal to celebrate all of the birthdays for each month. Hook begins each family meal with a lesson or philosophical question, like discussing what is wealth, or what traditions the modern American family no longer follows and what's the impact of that. "Sometimes they entertain my questions, and they want to talk about it," says Hook, "and other times, they're just like, 'Oh, gosh, here he goes again.'"
22. Reflect on your practice. At the beginning of each school year, as well as bi-monthly with their professional learning community, Nashville Big Picture's staff looks at how they can improve what they're doing. "We don't just sit in one place," says Ivy Davis, "and say, 'Hey, this works,' and leave it that way. No, we're always looking at, 'Is this still working? Do we need to keep it? How can we enhance this?'"
Building relationships is one of the most critical elements at Big Picture, says Snorten. "That's key because it's the catalyst. When a student can relate to you, and they know you care, that makes a big difference." Nashville Big Picture has cultivated a relationship-focused culture, and advisory allows them to deepen those relationships.
School Snapshot
Grades 9-12 | Nashville, TN
Enrollment
182 | Public, Urban
Per Pupil Expenditures
$10875 District
•

$9265 State
Free / Reduced Lunch
59%
DEMOGRAPHICS:
56% White
34% Black
9% Hispanic
1% Asian
Data is from the 2015-2016 academic year.