STEM
Applied Engineering in Elementary School
From second graders building their own playground to fourth graders modeling dream cars, it's all in a day's school.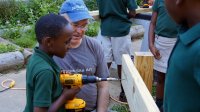 Overview
At Charles R. Drew Charter School, elementary students learn complex engineering skills and concepts, helping to build lifelong critical thinking and problem-solving skills. Here's how they do it.
How It's Done
Navigate the Challenges of Teaching High-Level Concepts to Elementary Students
Teaching engineering concepts to elementary students can be a challenge. The staff at Charles R. Drew begins with using age-appropriate vocabulary, scaffolded learning, and kinesthetic learning.
"I think about teaching these concepts as though the students and I speak two different languages, and I must translate," says Courtney Bryant, Charles R. Drew's engineering design teacher. "I start by sharing very basic information on a topic in rather simplistic language, and then I let them experience it on their own to learn more. . . I introduce more complicated language as they navigate through the learning process."
To better teach these complicated concepts, Bryant has her students act out the movements of simple machines. "When elementary-age students understand a concept through the use of their body, they rarely forget it," notes Bryant. "I am able to introduce physics, advanced math, and visual representation skills that are typically beyond elementary level as a result of this hands-on or full-body approach."
Create an Engineering Curriculum Using Backward Design
Bryant's elementary engineering curriculum flows from a backward design approach. She starts with the results that she wants her students to achieve, and then designs the instructional methods to meet those goals.
"There isn't a statewide curriculum for elementary school engineering design," explains Bryant, "but looking at the standards for where they need to be in middle school and in high school, I'm able to backward design for what should be happening at the elementary level."
There are three stages to backward design.
Stage 1: Identify Learning Objectives
This first stage focuses on what big ideas and skills you want your students to learn. "I think about problems our school or community face and what standards I need the students to master," says Bryant. Her specific learning objectives for K-2 students are:
A basic understanding of the design process
Understanding the value of brainstorming and teamwork
Experience thinking through all aspects of a problem when considering a decision
Experiencing the value of success after many failures
With younger students, she also introduces career and college opportunities as part of how they might apply these skills to real-world contexts.
Stage 2: Define Assessment Strategy
When designing a project, Bryant considers what will be evidence of mastery, and what assessment methods she can use. "Rubrics are a big part of the assessment strategy for engineering design," she says. She also considers how the evidence might be authentic and solve a real-life problem.
Stage 3: Identify Teaching Methods, Resources, and Materials
The final stage focuses on the skills and knowledge that students will need to achieve the goals you're setting for them, as well as the teaching methods, lessons, and resources that you'll use to help them reach those goals. "I think about what scaffolding, resources, and materials might be necessary for an elementary student to solve what could potentially be an adult-like problem," elaborates Bryant. "The last step is key when working with younger populations. Often they are able to do amazing things with the right amount of support and proper choices in materials or resources."
Use Design Thinking Process
Design thinking is a process that allows people to come up with ideas and solve problems in a creative and engaging way, honing their collaboration, critical thinking, and communication skills. Empathy -- understanding who you are designing for -- is a key element of design thinking, as well as collaboration -- working with others to build on your ideas, gaining feedback, and learning how to make iterations on your ideas from that feedback.
Charles R. Drew Charter School follows the stages outlined in the James Dyson design thinking process -- brief, research, idea generation/development, 3D prototyping, testing, and evaluation and modification. The staff relies on the Nueva School's design thinking model to make the process more robust. "The idea of empathy is a big part of their structure," says Bryant about that model.
The TinkerYard and Dream Car Projects
The students at Charles R. Drew use design thinking to create their projects. For each grade, Bryant comes up with projects that the students work on throughout the quarter. Second-grade students are currently designing and building a TinkerYard, four outdoor stations that make up a playground. Fourth-grade students are designing a Dream Car for a particular customer and a fictional auto company. The final product will be a 3D model of their concept car.
Phase 1: Brief
The goal of a brief is to outline a project and communicate expectations and goals. The students' brief describes the purpose of creating the project and what its use will be, as well as outlining questions for them to consider. In the fourth-grade Dream Car project, for example, students receive a brief (PDF) which identifies what their teacher is looking for and what they will be expected to accomplish by the end of the project.
The brief outlines that students will:
Identify a client and imagine their needs.
Consider what design enhancements might make the trip easier.
Select/create vehicle features that will make the trip nicer for everyone.
Create multiple idea sketches and share ideas with the group.
Select one idea and create a final series of at least two sketches showing the front, side, and three-quarter view of the concept car.
Create a clay prototype of the vehicle.
Present their idea sketches and prototype.
Phase 2: Research
The goal of the research phase is for students to be better informed when designing. They learn research, analysis, and sometimes interviewing skills during this process.
In the second-grade TinkerYard project, Bryant's students research possible simple machines for the energy station using books, Google images, and online videos. They look at architectural magazines (donated by a local architecture firm) for ideas about shapes, patterns, and colors. They also do hands-on research, "manipulating a collection of physical items -- like rope, pulleys, wheels, pieces of wood, and other material -- to create their own simple machines on the fly," adds Bryant.
Fourth-grade students go to the High Museum of Art, which features the Dream Cars exhibit, to take notes about size, shape, form, and materials. They learn about composition, materials, and use (like how many passengers were intended for this car), and how they can apply that knowledge to their target customer's wants. In their research, students also delve deeper into understanding their customers' experiences to design for an unmet need by interviewing a user and analyzing user data. Where does their target customer go when driving? Who comes with them? What do they take with them?
Phase 3: Idea Generation/Development
For the idea generation/development phase, says Bryant, "students should be able to synthesize information and begin to make design decisions that will alter the way their product works, looks, and feels for the user. Teachers also want students to be able to successfully communicate their ideas -- visually, orally, or in written form -- and be able to share them with the world."
Second-grade students draw sketches of their ideas showing what each TinkerYard station could look like. "Students learn how to draw their idea in perspective," explains Bryant. "The students then see that 3D drawings best communicate their idea."
Fourth-grade students also draw 2D and 3D sketches to communicate their ideas, but they may begin by rendering a concept car stemming from someone else's idea so that they'll feel confident when it comes time for drawing and sharing their own ideas. "Students may also add descriptive language to their drawings to capture ideas and thoughts that relate to the concept," suggests Bryant.
Phase 4: 3D Prototyping
According to Bryant, the goal of the 3D prototyping stage is for students "to see how their ideas look and might function in real life."
The TinkerYard is a working prototype. "As a class, we may try an idea out on paper and begin to build it in the TinkerYard, only to realize that objects need to shift, or don't work quite the way we envisioned," says Bryant. "The TinkerYard is an iterative process. It will never be completely finished."
Meanwhile, the fourth-grade class is building 3D clay models. "They follow a process very similar to industry," explains Bryant. "The auto industry still makes clay models despite having many 3D printers and other rapid prototyping materials on hand."
Phase 5: Testing
The goal of the testing phase is to gain feedback on the prototype in order to make improvements.
After putting together the TinkerYard's energy station, the second-grade class has a "soft opening" -- they invite students and teachers to play at the station, which can reveal changes that need to be made once the designers see how users interact with what they created. When issues arise from testing, students go back to the classroom, generate new ideas, and prototype solutions.
Bryant describes how her fourth-grade students "seek the client's approval for the concept car they have created. Similar to the process in the automotive industry, where designers present the concept car to a test market and get consumer feedback, students show their vehicle and promotional materials to the students in the class and other visitors to get their impressions. I like to involve actual users or professionals from the design field as much as possible in student feedback."
Phase 6: Evaluation and Modification
The goal of the evaluation and modification stage is to have students collaborate, see how ideas combine, and understand the importance of feedback and making iterations. "The evaluation/modification phase is not set in stone behind prototyping," explains Bryant. "Evaluation is necessary at many points in the process to ensure you are on the right track. Once evaluation is underway, it may become clear that modification of ideas, drawings, or prototypes is necessary before progressing to the next step."
For both the lower and upper elementary projects, students share out their drawings and gain feedback on their designs for iteration. "It is important for students to learn that in the design process, it is not one and done," says Bryant. "Students want designing something to be fast and are hopeful that their first attempt will be good enough. The students help each other see that iterations are necessary. They provide feedback, and it is helpful when it does not come from the teacher. Often, students are more willing to consider feedback from a critical friend."
Assessment
"Rubrics (PDF) are a big part of the assessment strategy for engineering design," observes Bryant. On the Dream Cars rubric, students rate themselves and their cars on a one-to-three scale reflecting how they met their clients' needs, effective modeling, and visual appeal. Next to each rating, they explain why they gave themselves that score.
The end of the Dream Car project also features a student evaluation form (PDF), on which they write three things they like about their Dream Car model, two things they would change, and one thing they've learned.
Bryant also evaluates her students' work using the rubric, which she uses, along with their self-evaluation, to discuss their work with them, whether or not they're on the same page, and why.
Resources
School Snapshot
Grades PK-12 | Atlanta, GA
Enrollment
1313 | Charter, Urban
Per Pupil Expenditures
$18908 District
•

$9402 State
Free / Reduced Lunch
59%
DEMOGRAPHICS:
83% Black
11% White
3% Multiracial
2% Hispanic
1% Asian
Demographic data is from the 2013-2014 academic year. Fiscal data is from the 2011-2012 academic year.