Mobile Learning
Resources for Using iPads in Grades 9-12
Looking for advice on integrating iPads in high school classrooms? In this curated guide, we've compiled resources to help you find apps, learn about best practices, and explore ideas for engaging activities.
May 13, 2014         Updated March 23, 2016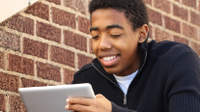 Resources by Topic:
If you're a high school teacher looking for iPad resources targeting your needs, you've come to the right place. Students in grades 9-12 will engage with technology in different ways than younger children. They can create content, interact with their peers, and explore a range of topics using an iPad. Whether you're in a BYOD setting, in a one-to-one program, or simply looking to use one iPad effectively, this list has apps, activities, and ideas for your high school classroom.
Favorite Apps
Best Practices
Engaging Activities
One Best Thing (iTunes)

This brand-new collection of iBooks, written by Apple Distinguished Educators, includes iBooks that outline engaging activities using technology and several that focus specifically on working with high school students. You can read them straight from your iPad to gather ideas on how to reach students using technology. Browse the whole collection; or check out these selections, which are perfect for high school teachers:
What are your favorite apps or lessons for using iPads with high school students? Share a must-read blog post or resource in the comments below!