Professional Learning
Seven Building Blocks for Successful High Schools
Green Dot founder Steve Barr shares his organization's fundamental requirements for creating a viable school.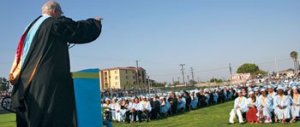 Credit: Malaika Costello-Dougherty
Bring It Back: 'How many of you will come back to change this neighborhood?' Steve Barr asked more than 300 students graduating from Locke High School, in the Los Angeles district of Watts.
This article accompanies the feature "Steve Barr's Answers for School Reform."
Green Dot consists of 19 small charter high schools in Los Angeles -- including the infamous Locke High School which the organization led through a significant turnaround -- as well as Green Dot New York that finished its first year last June. Replicating success seems to be part of Green Dot's DNA.
Here are seven tenets of Green Dot's philosophy about schools that work:
1. Small, Safe, Personalized Schools: No public school should have more than 500 students.


2. High Expectations: Every student graduates ready for college or work. Every student is prepared to attend a four-year university.


3. Local Control: Critical decisions such as hiring and firing and curriculum customization are done at the school site. Principals and teachers are empowered to try new things.


4. Parent Participation: Parents are required to volunteer at school for at least 35 hours a year.


5. Maximize Funding to the Classroom: Dollars are spent and budgeted at the school site. Money isn't spent on bureaucracy.


6. Extend the School Day: Schools are kept open until 5 p.m. daily to provide students with after-school programs and to serve the community.


7. Collective Bargaining: Teachers are at the table to make decisions, which makes them more empowered employees. Unions are involved in the reform efforts.
Malaika Costello-Dougherty is a senior editor at Edutopia.