Learning Environments
Why Learning Space Matters
To maximize learning potential, classrooms should be open, comfortable, well lit, and visually stimulating. Strategic use of existing space can make a big difference, too.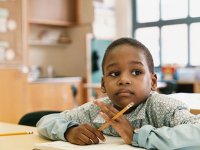 From the front door and school grounds to the classroom, the aesthetics of learning spaces impact brain function and influence how students feel when they're in school -- as well as how they feel about their school.
Neuroscience continues to inform us about how the brain functions and what this means for effective teaching and, more importantly, effective learning. We know:
Why emotionally connecting with our students is crucial to their learning experience
What is the importance of connecting new information with prior knowledge
How using art to engage multiple senses results in increased cognition and recall.
But what about the physical design and layout of our classrooms? Lighting? Sound? How do these and other factors of the physical learning environment contribute to effective learning?
The average American school is over half a century old, designed at a time where information transfer followed the "sage on the stage" model. But as we evolve our teaching methods and technology, our physical learning spaces stagnate.
"Schools are one building type that we're all familiar with because we've all been to school," explains Prakash Nair, president and founding partner of Fielding Nair Architects, specialists in school design. "So we have this mental image of what a school building is supposed to look like." Nair urges everyone to reach beyond our mental images of school, and envision "what a school could be, as opposed to what it has always been."
So what should schools look like?
Curved and Open, with High Ceilings
Another study revealed that more enclosed spaces lead to an increase in cortisol, the stress hormone.
Comfortable
Comfort in classrooms? Isn't this just another way that we're shielding our students from the harsh realities of the real world? "Not really," says Jeremy Mettler, a social studies teacher at Batavia High School. "The reality is, if you're sitting in an uncomfortable chair or you're distracted by glare, you're focusing on the source of the discomfort rather than the learning. The distraction is a stress, and if you're stressed, you're not learning."
Well Lit
Christopher Alexander, Emeritus Profesor of Architecture at UC Berkeley, posited in his seminal work, A Pattern Language (1977), that low levels of light in classrooms affected students' ability to regulate the body's natural cycle of sleep and arousal. A 1999 study by Lisa Heschong, principal of the Heschong Mahone Group (and expert in daylighting, lighting energy use, and human factors in building design), illustrated the relationship between natural light and achievement by looking at more than 21,000 students across three states. The higher the amount of natural light in a classroom or artificial lighting that mimicked natural sunlight, the greater the students' school attendance, achievement, and overall health. Keep classroom lights on, open blinds, lift shades, and look for ways to get the students into outdoor light, especially in the morning (Kripke, Youngstedt, & Elliot, 1997).
Fresh and Relevant Visual Displays
"Simply put, the brain likes novelty, new things," says Michael Posner, cognitive neuroscientist and Professor Emeritus at the University of Oregon. "Novelty taps into two of the three attention networks -- the alerting and orienting neural networks (executive function is the third which deals with regulation)." Translation for learning spaces? Posters and other images or objects on walls or in the rooms are great to capture students' attention. Posner recommends changing them as the content changes because "novelty grabs attention but it doesn't sustain it."
Teaching in 3 Dimensions
Here are some easy, inexpensive, and neuroscience-compatible tips to try in your classroom:
1. Create the Illusion of Space
"Mirrors can transform small spaces," says Camille Overmeer, interior designer at The Camellia. "Placing them across from a window gives the illusion of multiple windows, plus it reflects the natural light." She also recommends laminating wall displays or selecting inexpensive plastic frames for posters, "for their reflective qualities."
2. Involve Students
Nair recommends involving students in examining the various ways that a classroom can be rearranged to encourage more collaboration, discussion, and project-based learning. It's also a great exercise in space planning, measurements, three-dimensional thinking, and layout.
3. Extend Novelty Beyond Visual Stimulation
From middle school teacher Alexandra Fleming: "I regularly changed my seating and brought in a different object related to our unit every few days. When my students entered the classroom, they would connect how the room was arranged to the work they were doing that day."
Both Vartin and Overmeer urge teachers to consider the functionality of the space. "What is it being used for? Let that drive the layout."
How do you use space in your classroom? Please tell us about it in the comments section below.
Additional Resources